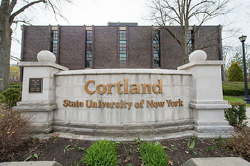 08/21/2020

The following message is being sent on behalf of President Erik J. Bitterbaum:
Tomorrow, the SUNY Cortland campus will begin to come back to life. The first wave of students will move into their residence halls as part of a carefully planned week designed to prevent the spread of the novel coronavirus.
Move-in is always an exciting time for me. I look forward to meeting new Red Dragons, reconnecting with those I haven't seen for months and beginning the adventure of a new academic year. This year is no exception. I am confident that new practices and policies put into place over the summer will allow us to safely and successfully provide an on-campus educational experience this fall, as long as our students follow the rules and commit to stopping the spread of COVID-19.
I realize that's a big ask for people in their late teens and early 20s. We expect young people, many who have spent months in relative social isolation, to wear face coverings, limit social contacts and maintain physical distancing whether they are on campus, in their off-campus apartment building, walking through Cortland neighborhoods or shopping at a local store. But I have reason to be optimistic.
Many, many students this summer have told us how very much they want to come back to Cortland. They are passionate about the campus educational experience and understand that the only way we can make that a reality during this pandemic is for all members of our community to take personal responsibility for reducing potential spread of the virus. Most of our students are from New York, the original U.S. epicenter of COVID-19 and the hardest-hit state in the country. Many of you have lost loved ones to the disease or personally survived the virus. That legacy, I believe, gives our students a different attitude toward anti-virus measures than students in some of universities that saw big surges in positive COVID-19 cases this summer.
I also know that SUNY Cortland students aren't just smart and ambitious. They are compassionate and care about each other and the community around them. I see that compassion in the volunteer work they do throughout the region, in the kindness they show their Cortland neighbors and the respect they exhibit toward other members of the university community. While the pandemic is still raging, the best way to show this care and compassion to each other is by following the rules put in place against COVID-19.
Our students are also health conscious. SUNY Cortland is committed to being one of the healthiest campuses in the United States, and I fully expect our students will put as much effort into protecting themselves from the pandemic as they do in their fitness workouts or athletic practices. It makes little sense to maintain a workout schedule, eat a healthy diet, but fail to wear a face covering in public.
That said, it is absolutely critical that our students live up to these expectations. Recent events clearly make this point. At the University of North Carolina at Chapel Hill, students disregarded guidelines and went to parties. Just a week after in-person classes began, the school was forced to go completely online because of a coronavirus outbreak. A similar outbreak attributed to student parties forced the University of Notre Dame to quickly shift to remote learning. And just this week, Syracuse University suspended nearly two dozen students after a large group of freshmen secretly gathered. The administration warned that the act might be enough to end their in-person semester before it really starts.
I share these stories to help you understand that, in a very real way, the success of this semester is in your hands. Your actions, on and off campus, are likely to determine whether SUNY Cortland will be able to provide an in-person experience, or will be forced to return to fully remote learning. The SUNY Cortland students I know are able to focus on achieving long-term goals, even if it means short-term sacrifice. I know that, if any student body can do what it is needed to stay healthy and keep others out of danger, it is SUNY Cortland.
Please keep the following in mind:
The Student Code of Conduct now requires all students to abide by all new policies and procedures aimed at preventing the spread of COVID-19. That means that not wearing a mask, socializing inappropriately or ignoring other university virus safeguards can lead to disciplinary action, including interim suspension.
The city of Cortland now prohibits social gatherings of more than 25 people; half of what is allowed under New York State law. City police will enforce this prohibition, which could result in a misdemeanor criminal charge.
Potential violations of SUNY Cortland's COVID-19 guidelines can be reported through SUNY Cortland's online incident form. It has been shared with the neighboring community and allows people to upload photos of students who appear to be engaged in dangerous behavior.
All students MUST complete a pre-arrival screen before coming to campus to start the semester. If you have not done this, DO IT IMMEDIATELY. You will not be allowed to move in to a residence hall, take classes in-person or use campus facilities until you do.
Although it will be a semester of constant vigilance by all, I am happy to share that SUNY Cortland will likely be allowed to open the Student Life Center, pending final approval by the Cortland County Health Department. The facility will operate at reduced capacity and with a host of new safety guidelines, but it will probably open next week.
I also want to share that SUNY Cortland Campus Activities staff have developed a full schedule of Welcome Week activities that will be rolled out in a few days. The activities, which range from scavenger hunts to outdoor movie nights, will be scheduled for individual residence halls, and offer a taste of the kinds of activities that will be made available to students throughout the semester.
Students moving into campus residence halls this week will notice the strict controls SUNY Cortland has placed on the extended move-in process. On-campus students, especially first-time students, should be aware of the following:
The Fall 2020 semester can be a rich and memorable time filled with growth. But meeting that potential requires each of us – students, faculty and staff – to step up and do our part.
All the best,
Erik J. Bitterbaum
---