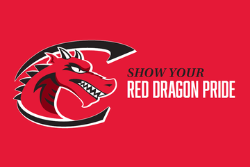 09/25/2020

Whether you are on campus or halfway around the world, Wednesday, Sept. 30 is your opportunity to show off your Red Dragon Pride.
Red Dragon Pride Day will be celebrated both virtually and in person on Sept. 30 and will allow SUNY Cortland graduates many opportunities to share why they are proud to be Red Dragons and to enter to win prizes.
Alumni are encouraged to join in the fun remotely in the following ways:
Participate in the photo contest
Download and print a Red Dragon Pride Day pennant or window graphic.
Order some new Cortland gear with a 15% discount from The Campus Store.
Students, faculty, staff and campus community members may participate in the following events on campus:
Hang Red Dragon Pride window graphics
Look for Red Dragon Wagon travels
Wear your favorite Cortland gear and add to your collection
Use the Snapchat geofilter
Submit your photos for the photo contest
Downloadable pennants and graphics, full contest rules and more are posted on RedDragonNetwork.org.
We'll see you on Sept. 30. And thank you for being Red Dragon Proud.
---