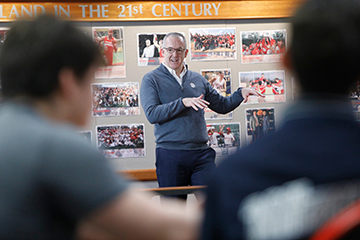 03/29/2023

As the second half of SUNY Cortland's spring semester picked up its pace, one of the most influential voices in college athletics offered a two-day masterclass on leadership and career advice for students with sport-related interests.
The teacher was Greg Sankey '87, the highly respected commissioner of the NCAA's Southeastern Conference (SEC).
Sankey, a native of Auburn, New York, and former Cortland physical education major, returned to campus March 28 and 29 for an executive-in-residence program that included visits to five sport management classes and meetings with faculty, staff and Red Dragon student-athletes. Topics spanned everything from job search tips to crisis communications to governance in college sports.
"I can recall, when I was a student, there were these moments where people would come in to visit and those were learning experiences outside of the traditional classroom," said Sankey, 58, who now resides in Birmingham, Alabama. "From that personal experience, there's a responsibility to try and provide those opportunities for young people during their college years."
A lot has happened in Sankey's career since his last in-person visit to campus in October 2014, most notably an ascent to leading the NCAA's most visible and successful conference. His tenure as SEC commissioner since 2015 has involved adding member institutions, working to expand the College Football Playoff and navigating the challenges of the COVID-19 pandemic.
The spotlight brought more success, as suggested by a 2022 Sports Illustrated profile that confirmed "(Sankey's) admiration is echoed throughout the league, from athletes to coaches to administrators."
His recent SUNY Cortland visit, however, was low-profile and, in some ways, a chance for Sankey to return to his roots in education. It was a brief pit stop in upstate New York before he heads to the women's basketball Final Four in Dallas, where SEC squads make up half of the remaining field.
Sankey shined as a storyteller in classrooms — tracing his own career arc to offer big-picture lessons, using a unique sense of humor and impeccable memory to connect with students and making several book recommendations in the process.
"The phrase that stuck with me in my prep notes is that you're six weeks away from graduation," said Sankey, speaking to a room of roughly 50 sport management majors enrolled in a senior capstone course. "All of this will be on the test."
The test was a metaphor that Sankey referenced frequently. He answered questions directly from students and shared many personal stories, including several from his time at Cortland, that doubled as life lessons.
Among the highlights of his advice and anecdotes:
Figure out a framework
Back in the spring of 1987, Sankey was nearing his graduation from Cortland and enjoying a field experience at the W.H. Parks Family Center for Environmental and Outdoor Education at Raquette Lake, the university's outdoor campus in the Adirondacks. "I figured I was going to be teaching at the elementary or junior high school level and probably coaching," he said. "I thought maybe I could coach Division III basketball at some point."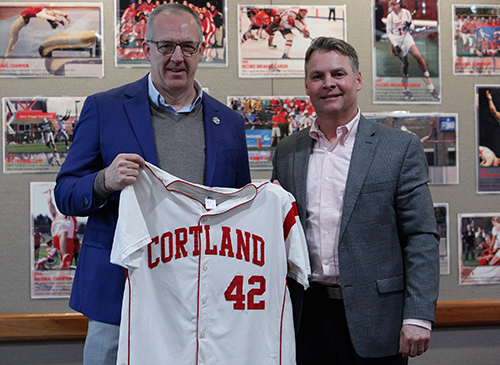 He had two job prospects that following summer: coaching low-level college basketball or becoming the director of intramural sports at Utica College. The latter offered the opportunity to earn a graduate degree for free.
"I framed up my thinking," said Sankey, who worked two years at Utica while earning a master's in education from Syracuse University. "If somebody was going to pay for grad school and I could get a little bit of experience, I was going to take that job."
He discussed the value of an advanced degree. In 1987, Sankey considered pausing his graduate studies for a year before Utica's athletic director at the time, Jim Spartano, provided pivotal career advice.
"I had just spent five years reading books and research that everyone else wanted me to read," said Sankey, a voracious reader. "I wanted to take a year to read what I wanted to read. (Spartano) gave me the best piece of advice anyone has ever given me in my career. He said, 'If you don't start now, you never will. It'll just become more difficult.'"
Pointing to the SEC logo on his sweater, Sankey told Cortland seniors that his career path could have been drastically different if he delayed his education.
"Opportunities that were presented to me, in part, were all about timing," he said. "It's actually not about who you know. It's about what you know, the job you do and the opportunities you decide to take."
Money follows, it doesn't lead
With a master's degree in hand, Sankey's new guiding framework became the challenge of working in Division I athletics. But the paycheck didn't initially match the jump in divisions.
In 1989, he gave up a comfortable salary at Utica for work in compliance and academic services at Northwestern State University in Natchitoches, Louisiana. The new job initially paid $500 per month without benefits. He had been married to his wife, Cathy, for less than a year at the time and estimated they had saved enough money to keep them afloat from July to December.
He remembers an honest conversation that they shared.
"I told her I wanted to work in Division I college sports and see how far it might go," said Sankey, who will celebrate 35 years of marriage in November. "If we couldn't afford our existence, I figured we'd pack up our 1987 Dodge Shadow, I'd substitute teach and maybe we'd have to live with our parents for a little while to get back on the right track."
Instead, they lived through Louisiana summers without air conditioning to cut costs and Sankey took on added duties as head golf coach at Northwestern State.
He told Cortland students to budget responsibly, never to pay for a $3 latte on a credit card and let their work ethic lead them.
"I would submit to you that when you get that first job — as long as it's not illegal, unethical, morally improper — then you should say yes to every opportunity," Sankey said. "I'm not good at golf, but I won an award for coaching a college golf team at the Division I level in my second year.
"If you're going to do it, do it really well. Throw yourself at it."
Don't be limited by geography
Several times during his conversation with graduating seniors, Sankey recalled a limited worldview that he carried into his early 20s.
He grew up in a hard-working, blue-collar family in nearby Auburn, New York, with a father who was a welder and a mother who believed strongly in education. After briefly studying engineering at a small college in Texas, he reset at Cayuga Community College and eventually transferred to Cortland.
Sankey commuted to campus and focused on local sports endeavors during his college days, running a recreation program in the Town of Cayuga while assisting high school basketball and baseball teams.
"My horizon to the east was Albany, my horizon to the west was Buffalo, I really wasn't thrilled about moving north — I had an uncle who taught in Phoenix, N.Y. — and down to Pennsylvania," he said. "A two- to three-hour drive is what I could see at that point in life."
His leap of faith from upstate New York to Louisiana was followed by a move to Texas in 1992 and a 10-year stint in progressive leadership roles with Division I's Southland Conference. In 1996, he was named commissioner at just 31 years old. He spent six years during his mid- to late-30s in that role — one of just 32 such jobs at the Division I level — but sought a change in 2002.
He sensed a feeling that he likened to teacher burnout, a topic that he learned about in the university's Park Center.
"I learned in this building what teacher burnout is and what causes it," he told students in Park Center's C-Club Hall of Fame Room. "…It's no way to live. I wasn't going to do it as a teacher and I wasn't going to do it as a conference commissioner."
Sankey explained that a move to be associate commissioner in the higher-profile SEC actually came with an initial decrease in pay, but that new challenges and growth opportunities made the change worth it.
He told students: "I challenge you as you think through the next six weeks: what's the 'why' of the job you take?"
Things aren't always neat and clean
The SEC's prominence and that of its commissioner is well-documented. The conference has earned 42 national championships during Sankey's leadership tenure, including six of the past eight in football.
Among his many accomplishments, Sankey has overseen a milestone broadcast agreement, led several initiatives focused on student-athlete well-being and co-chaired the Division I Transformation Committee, a group of college sports leaders tasked with addressing the most significant challenges in college athletics.
"With what I do, the highs are really high, like 65-7 in the national championship game," said Sankey, referring to the University of Georgia's dominating win in the most recent College Football Playoff title game. "But that's Monday night. If something happens on Tuesday, then Monday doesn't matter."
Students asked about the biggest challenges in the commissioner's role and he explained that they vary day to day and that they've evolved over time. He discussed an example from 2015, following a white supremacist's mass shooting in Charleston, South Carolina. The SEC was asked for its position on state-sanctioned displays of Confederate battle flags in places such as South Carolina and Mississippi.
"I had been commissioner for two weeks, but we made a very clear statement about the need for change around the Confederate battle flag display," Sankey said.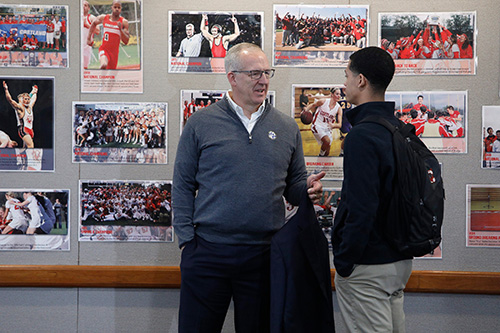 As the longest-tenured commissioner of conferences that many refer to the "Power Five," a term that Sankey said he prefers not to use, he is considered a natural leader. Many people looked to him for guidance during the COVID-19 pandemic.
"I remember sitting there on my front porch thinking that I went to Cortland to teach physical education and now people wanted to know if we're going to have a college football season," he said.
He referenced two quotes on display in his office. "Champions do extra," reads one attributed to the All Blacks national rugby team of New Zealand. Another that he wrote down during a speech by former President Bill Clinton says simply, "Problems yield to effort."
Sankey described the effort and challenges that can come with planning six consecutive weeks of conference championships across six sports during the winter and early spring.
"Do you know which one of them we get to do halfway?" he asked students. "Absolutely none of them."
Never stop learning
Lifelong learning has been the consistent theme of Sankey's career trajectory. He recalled a lesson that he learned as a physical education major in a sport history class taught by Dr. Norma Carr.
"She asked us one day, 'What does going to college do for you?'" Sankey told current students. "Her philosophy was that it makes you smarter faster."
Sankey implored the room full of senior sport management majors to continue learning and improving even after their Cortland graduations, whether that involves refining their cover letters and resumes, reading new books or taking on new challenges.
"If you think you're done learning, then you are actually done," Sankey said. "You're not going to advance. Part of my drive is, 'How do I continue to learn?'"
The question seems strange coming from the person who many consider to be one of the sharpest minds in college athletics. But Sankey said he still takes time every June to consider if he's learning and being challenged.
He encouraged Cortland students to do the same.
"When you're 58 like I am and you look back when you were 22, you realize life comes at you fast," he said. "But you've got some time to get it right.
"Use the time early to make the adjustments so that you can take some of those leaps of faith."
---