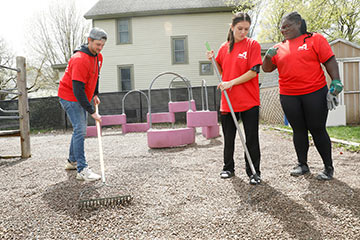 09/26/2023

Washington Monthly and U.S. News & World Report have once again recognized SUNY Cortland as one of the best universities in the United States.
Washington Monthly rated Cortland as 45th overall on its national 2023 Master's University Rankings and at 75th on its 2023 Best Bang for the Buck: Northeast list.
U.S. News, in its annual evaluation, placed Cortland at 20th in its Top Public Universities in the North list and at 60th overall for Regional Universities in the North, moving it up 25 places from last year in this category. It also ranked Cortland 27th nationally for Best Colleges for Veterans, an improvement of seven places from 2022.
There are nearly 4,000 degree-granting colleges and universities in the United States, according to the National Center for Education Statistics.
"It is wonderful to see SUNY Cortland ranked among the nation's top colleges and universities by these publications," said President Erik J. Bitterbaum. "The university, and its excellent faculty and staff, remains committed to providing a high-quality, transformational and affordable education for students from across New York state and around the world. I am particularly pleased to see Cortland recognized for service and social mobility, both of which are key parts of the university's mission."
Washington Monthly, an influential nonprofit magazine, developed its system for ranking schools based on their contribution to the overall public good in 2005 and has released its findings every year since. Its Master's University Ranking includes institutions that award bachelor's and master's degrees, but no doctoral degrees. Public, private nonprofit and for-profit schools were all rated.
This system includes several categories in which Cortland ranked exceptionally well. SUNY Cortland was 7th in the nation under the publication's "Service" category, which looks not only at an institution's community service and engagement, but majors, like education, that serve the public.
Factors that bolstered Cortland's standing were:
18% of federal work-study funds spent on service

Earning and maintaining Carnegie Community Engagement Classification. Cortland was the first SUNY campus to earn the designation.


A top 40 rank in 8-year graduation rate with 74%

The highest possible level rating for voter engagement

A total of 37% of graduates with service-orientated majors
Cortland also ranked in the top 100 in Washington Monthly's "Social Mobility" category at 91. It placed high in the subcategories of Graduation Rate, at 39, and Earnings Performance, at 92. It is the third-ranked SUNY comprehensive university on Washington Monthly's overall list.
The U.S. News' 39th year of rankings used academic reputation, cost of attending and return on investment as its main considerations, with an increased emphasis compared to past lists on how often schools' students from all socioeconomic backgrounds earned degrees.
Peer assessment, financial resources per student, graduation rate performance, class size, faculty salaries and Pell graduation performance were U.S. News' biggest factors when judging nearly 1,500 schools. For its Best Colleges for Veterans list, top schools were also judged on the use of federal programs that help veterans and active-duty service members pay for their degrees.
---