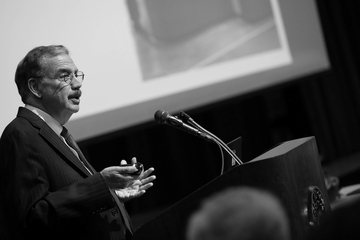 01/16/2023

Dear campus community,
While the spring semester begins next week and although many campus offices are closed today, I want to take a moment to reflect on the meaning of Martin Luther King Jr. Day.
Dr. King was one of the foremost leaders for social and racial justice in the 20th century. He strove both to enact meaningful change through legislative and political channels and to make impassioned, personal pleas to individuals to accept and act on the ideas of freedom, tolerance and non-violence.
The wisdom in the words of Dr. King, from "Letter from Birmingham Jail" to his "I Have a Dream" speech, have resonated for decades. But what advice might Dr. King have for today's college students? I am inspired by the following passage from a 1958 Commencement address Dr. King made at Morgan State University, a historically Black university in Baltimore, Md.
"Those of you who graduate today have opportunities that did not come to your mothers and fathers," King said. "Doors are opening today that were not opened yesterday. The challenge of this hour is to be ready to enter these doors when they open."
Sixty-five years later, Dr. King's words remain true. Not because we have failed to make progress in the decades since, but because the strides made in diversity, equity and inclusion have opened so many more doors to so many more people.
We celebrate the memory of Dr. King today in part to remember his accomplishments and his legacy. This day, however, is also a reminder to us that his work is not yet done. May we all be ready for the challenge of the hour and to enter these doors when they open.
All the best,
Erik J. Bitterbaum
President
---