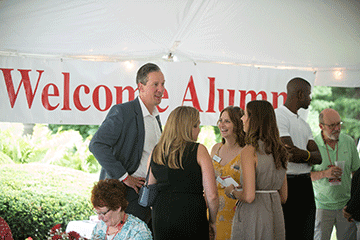 06/23/2023

Don't miss out on celebrating Alumni Reunion 2023 with the more than 200 Red Dragons already registered to participate in class get-togethers, parties and other activities both on and off campus.
The last day to register is Friday, June 30. Those who signed up but need to cancel their registration must also do so by this date in order to receive a refund.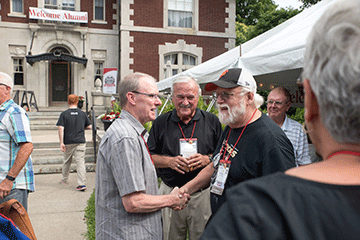 The Reunion runs from Thursday, July 13, to Sunday, July 16. Everyone from all class years is welcome to attend and join their classmates for a long weekend filled with fun and exciting events and activities.
Milestone and featured groups:
Half Century Reunion groups
1958 — 65th Reunion
1963 — 60th Reunion
1968 — 55th Reunion
1973 — 50th Reunion
Class of 1978 — 45th Reunion
30th Cluster Reunion — Classes of 1992, 1993, 1994
Class of 1998 — 25th Reunion
Alpha Delta sorority
Tri Sigma/Sigma Rho sorority
Beta Phi Epsilon (1927-1995) fraternity
Gamma Tau Sigma fraternity
Nu Sigma Chi (NEX) sorority (celebrating 95 years)
Sigma Delta Phi Sorority
Educational Opportunity Program (EOP)
Culturally based Greek organizations
Multicultural organizations/Voice Office (celebrating 35 years)
Be sure to check out our full schedule of events, including schedules for use of campus recreational facilities.
Lodging accommodations at area hotels and on campus are available. On-campus lodging can be purchased through the registration form.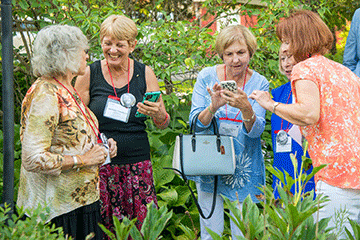 Want to showcase your business or celebrate you and your friends' return to Cortland? Then consider purchasing one of our Sponsorship Packages to support the weekend and our annual Red and White Golf Classic. Also, consider supporting SUNY Cortland, our students and the Reunion Giving Challenge by making a gift to the university when you register.
Additional information regarding the weekend — including parking, shuttles, attire and more — can be found here. If you have any additional questions, please contact Alumni Engagement at 607-753-2516.
---