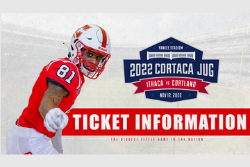 11/04/2021

Tickets for the 2022 Cortaca Jug football game at Yankee Stadium between SUNY Cortland and Ithaca College went on sale on Tuesday, Nov. 16, 2021.
The game is scheduled for Saturday, Nov. 12, 2022, with a 1:00 p.m. kickoff.
The tickets can be purchased at ticketmaster.com or cortacajug.com at prices ranging from $24.50 to $69.50. Fans may purchase up to 19 individual seats. A dropdown menu will allow purchasers the option of sitting on the SUNY Cortland side (third base/left field) or the Ithaca College side of the stadium (first base/right field). All tickets will be delivered digitally, and mobile presentation will be the sole method of entry.
A football seating chart for Yankee Stadium is available online.
In September, the schools and 5167 Sports Media LLC announced that they had partnered with the New York Yankees to have Yankee Stadium play host to the 2022 Cortaca Jug rivalry game. Once referred to by Sports Illustrated as "the biggest little game in the nation," the Cortaca Jug was played in 2019 before a Division III-record crowd of 45,161 fans at MetLife Stadium.
This fall's matchup will take place on Nov. 13 at SUNY Cortland.
Campus community tickets
Seats on the 400 level of Yankee Stadium will be reserved for SUNY Cortland and Ithaca College students, faculty and staff at the price of $24.50. These tickets will be sold by the respective schools in the fall of 2022. Members of the campus communities may purchase seats in advance of the campus on sale during the general ticket sale that begins on Nov. 16.
All fans are highly encouraged to purchase tickets as soon as possible to ensure the availability of the best possible seats of their choice. Members of the Class of 2022 and students graduating prior to the fall should note that campus community tickets will only be open to current students in the fall of 2022. Those students are encouraged to purchase tickets now.
Guests with disabilities
For information regarding Yankee Stadium ticketing and services for guests with disabilities, fans may visit Yankee Stadium's guide for guests with disabilities or email disabledservices@yankees.com.
Please note that wheelchair accessible and designated aisle-transfer seats are available at various price points and locations. Yankee Stadium also offers enhanced accessibility for guests with hearing loss or low vision and for guests who are deaf or blind.
Red Dragon alumni events
We can't wait to celebrate in the Bronx with all the SUNY Cortland alumni who are planning to attend! Details will be shared with you as soon as they are finalized. Check RedDragonNetwork.org for SUNY Cortland alumni information and follow the SUNY Cortland Alumni Association on Facebook, Instagram and Twitter for updates.
For the latest on all things SUNY Cortland athletics, visit CortlandRedDragons.com.
---