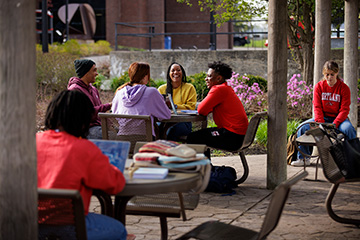 06/26/2023

Michaela Henderson '23 encourages new transfer students at SUNY Cortland to be patient and to get involved on campus, no matter how difficult it might seem at first.
She reminds them that a strong support network exists for students coming from other colleges and universities. It's one reason why SUNY Cortland has been named for the sixth consecutive year to the Transfer Honor Roll published by Phi Theta Kappa (PTK), an international honor society that includes high-achieving students from two-year colleges.
The 2023 list recognized 208 campuses nationwide, including four from the SUNY system. Cortland is New York's only public institution to be honored every year since 2018.
Roughly 2,150 transfer students applied to the university in 2022, with 731 enrolling.
Henderson admits that her transition wasn't instantly perfect when she arrived for the spring semester in 2021. She chose Cortland because of the university's reputation in teacher education, but her arrival came during the COVID-19 pandemic. Building relationships and meeting new people was difficult, she said.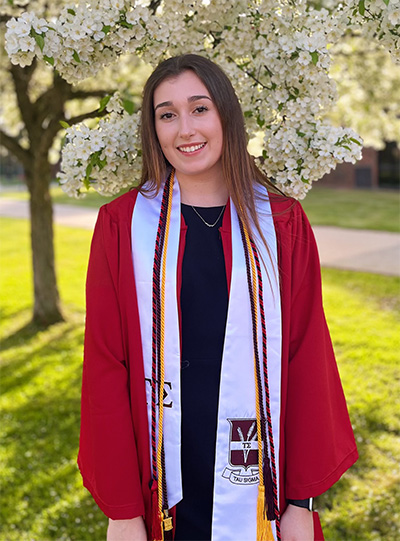 "It can be intimidating going to events by yourself," said Henderson, a childhood/early childhood education major from Conklin, N.Y. "Once I got involved and met people, I found my place on campus and Cortland became so much more like home to me."
She credits her success to staff members in Advisement and Transition, specifically Greg Diller '07, coordinator of transition programs, and Marinda Souva, associate director of transition programs. Advisement and Transition specializes in academic advising for all students, including transfers, and the office serves as a resource for questions about academic decision-making.
"Anything I ever needed or any questions I had, (Advisement and Transition) was always readily available to meet with me and happy to help with anything," said Henderson, who will complete her student teaching requirements in the Chenango Forks Central School District during the upcoming fall semester. "If they didn't know, they could point me in the right direction. They were just great."
In order to be named to the PTK Honor Roll, campus representatives complete a profile using an online tool called PTK Connect. Institutions are then assigned a transfer friendliness rating based on qualities such as transfer student support services, financial aid, admissions outreach and campus opportunities. The top 25% of highest-rated campuses are recognized.
Henderson also credited transfer-specific recognition in the form of the Tau Sigma Honor Society, which invites students who earn at least a 3.5 grade point average or rank among the top 20% of all transfers academically in their first semester. Henderson was inducted in Tau Sigma in 2022 and joined other student groups that included Education Club and the Transfer Network Team in her two-plus years on campus.
"It just feels nice being recognized with other transfer students," she said, encouraging future Red Dragons to attend club fairs early in the semester, read their Cortland emails and check out Transfer Network Team events, which can include anything from midterm stress relievers to an informal stuff-a-bear event.
Among the tools that SUNY Cortland continues to highlight in its PTK Honor Roll application:
Transfer Planning Sheets and Transfer Equivalency Charts: These online tools help students map a clear path to the university. Planning sheets outline recommended coursework prior to transferring and equivalency charts show how coursework from various institutions will count at Cortland. Several staff members in Advisement and Transition specialize in transfer credit evaluation. Zachary Wilson, transfer mobility advisor, also works closely with nearby partners in SUNY Broome and Tompkins Cortland community colleges.

Transfer Orientation: SUNY Cortland offers programs tailored specifically to new transfer students both in person and online during the winter and summer months.
COR 201: Modeled after COR 101 for first-year students, this one-credit opportunity introduces new transfer students to academic life and the many ways to create a successful Cortland experience.

National Transfer Student Week: Held in October, this weeklong effort looks to celebrate and support transfer students. Past programs included transfer trivia, a fall festival, a door decorating contest, a donut giveaway and an educational awareness campaign.

Reverse transfer degrees: Transfer students who come from community colleges without completing their associate degree can still earn it while working toward their bachelor's degree at SUNY Cortland. This opportunity is particularly useful for students pursuing part-time work during college that requires an associate degree.
Prospective transfer students can contact the Admissions Office to learn about the application process or Advisement and Transition for support resources.
Visit the Phi Theta Kappa website for more information on SUNY Cortland's recent recognition, including a full list of all 2023 PTK Honor Roll members.
---