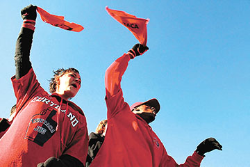 10/25/2021

Tickets for the Cortaca Jug football game, to be played at SUNY Cortland on Saturday, Nov. 13, 2021, will be on sale for students, faculty, staff and Cortland Auxiliary Services employees this week.
Current SUNY Cortland students, faculty, staff and Cortland Auxiliary employees may pick up one free ticket, with a valid SUNY Cortland ID, at the Corey Union Information Desk at these times:
Monday, Oct. 25 and Tuesday, Oct. 25 from 8:30 a.m. to 4 p.m. and from 5 p.m. to 8 p.m.
Wednesday, Oct. 27 from 8:30 a.m. to 4 p.m.
Students must have paid the athletics free to receive a free ticket.
Additional tickets will not be sold at this time.
Any remaining tickets will be available for purchase starting at noon on Sunday, Oct. 31 via CortlandRedDragons.com.
Alumni looking to purchase tickets may visit RedDragonNetwork.org. Alumni tickets are offered on a first-come, first-served basis for $10 each and the sale will end on Thursday, Oct. 28.
SUNY Cortland students must present their ticket and their college ID for admittance into the game. Lost or stolen tickets will not be reissued. Please keep your tickets in a safe place.
SUNY Cortland strongly encourages all attendees to wear face masks, regardless of their vaccination status. Disposable masks will be made available on request.
---