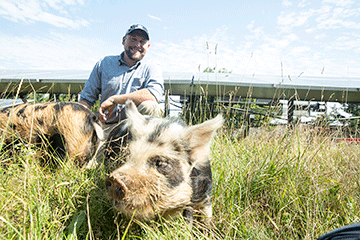 08/11/2022

It's not hogwash. SUNY Cortland is using pigs to clean up unruly grass and weeds around its solar panels.
It's a first-of-its-kind experiment to see whether a special breed of grazing pig can someday replace gas guzzling machines in difficult-to-mow locations. SUNY Cortland already uses a small herd of sheep to crop the grass under and around its solar array.
Visitors can see the two new Kunekune pigs (pronounced "cooney cooney") grazing with the sheep at the university's fenced field of solar panels near Route 281.

A breed native to New Zealand, they're being trotted out as part of a test to see how well they perform next to their hungry counterparts. Considering their name means "fat and round" in the Māori language, the pigs' owner thinks they should be up to the task.

Caleb Scott, co-owner of Highland Grazing Ranch in Tompkins County and supplier of the pigs in partnership with United Agriovoltaics, says his company was among the first to commercially graze sheep at solar sites and is excited for the new trial
"As these would be the first solar grazed pigs in the country, we are looking to make history once again," Scott said.
It would also make the Kunekune quite a particular type of pig. When it comes to solar grazers, most animals are more trouble than their appetites are worth. According to Scott, larger livestock are too big, and goats chew on wires and jump where they shouldn't. Other pig breeds are too destructive when they root up the ground.
The Kunekune breed doesn't act like other pigs. In their native country they're known for grazing alongside sheep — and they do not challenge fences. They also have short, upturned snouts that discour­age rooting. If those behaviors hold true while they graze at the university, Kunekune pigs may soon expand the options available for grazing at other solar facilities.
Daniel Dryja, director of facilities operations and services, has overseen the pigs since late July after they were brought to SUNY Cortland.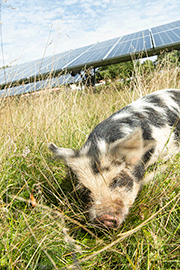 "We've had a very good experience working with Highland Grazing Ranch," he said. "They are a very professional, knowledgeable, and personable group of individuals. When they approached the college with the idea of utilizing pigs along with the sheep, I thought it was a great idea. Obviously, we strive to be as sustainable as possible in our endeavors on campus, and if we can help with some experimentation along the way, even better."
So far, the test has been a success. There have been no unexpected problems and Scott says the pigs have been happy to clean up whatever grazing plants the sheep leave behind.
If the pigs successfully pasture at the university for a month, Scott plans to bring a larger herd of pigs back next spring.
"SUNY Cortland has been absolutely fantastic. They are incredibly forward-thinking when it comes to sustainability and the dual use of solar," Scott said. "Daniel and the maintenance department have been fantastic assisting with watering and water availability. And the animals enjoy the attention of all the passersby."
It's a willingness to innovate that's helped make Cortland one of the top green colleges in the country. Its solar array uses 2,443 panels to produce 1,118 Kilowatts of electricity, and the campus itself uses 100% renewable electricity through solar power and the purchase of other renewable energy.
Now, through the use of Kunekune pigs, the university is leading the way on new methods of solar power maintenance that could have impact far beyond campus.
To learn more about all SUNY Cortland does — pigs and otherwise — for the environment, read about university's efforts to ensure sustainability.
---