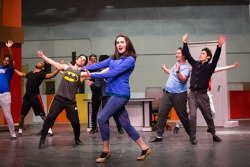 04/03/2018

The curtain is coming to a close on the college careers of senior musical theatre majors Hailey Pytel, Chloe Solan and Emily Woods.
In May, they will walk at Commencement and then head out into the working world.
So it's fitting that their final performance will be in the workplace musical comedy "9 to 5," which opens in the Dowd Fine Arts Center Theatre on Friday, April 13. The play is based on a 1980 movie that used farce and satire to draw attention to the inequality and harassment faced by women trying to make a living and pursue careers.
Solan and Woods are committed to pursuing careers in theatre. Solan will begin her first professional season at the Point Sebago Resort in Casco, Maine this summer and Woods will join "Ring of Fire" at the Broadway Palm Dinner Theatre in Fort Myers, Fla. starting in May.
Pytel, who is a dual major in speech and hearing science as well as musical theatre, plans to go to graduate school and ultimately work in developing better technology for cochlear implants to help those with hearing impairments better listen to music.
While they work on learning their lines, mastering the choreography or sewing the costumes, they can't help but think, much like the characters in "9 to 5," about their upcoming roles in the workplace.
"It's totally a bittersweet ending," Woods said. "The three of us have been together from the first day of freshman year. We all came from different places and now we're saying goodbye. We'll still see each other when we relocate to New York but it'll definitely be different. It's great to go on and get out in the real world, but it's a little sad."
"9 to 5" the film starred Jane Fonda, Dolly Parton and Lily Tomlin. Facing sexism, wage discrimination and harassment in their jobs at Consolidated Companies, their characters, Judy Bernly, Doralee Rhodes and Violet Newstead, respectively, resort to slapstick methods of poisoning and kidnapping their boss to change the office culture.
Solan plays the character Roz Keith, the snooping executive assistant to the boss in the Consolidated Companies office.
Although the musical offers a cartoonish glimpse at office life, the changes that the main characters make underscore the problems facing many workers to this day. In the end, male and female employees receive equal pay and qualified candidates receive promotions.
It's silly and light-hearted, but at its core, "9 to 5" tackles serious issues, which makes it a perfect fit in a SUNY Cortland theater season that focused on women's perspectives.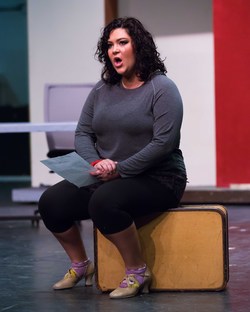 "One of the most inspirational songs in this show is called "Change It," Solan said. "I think that can be a power song for anybody, not just women. With the #MeToo movement going on, I think this show will really resonate with women and men too, just to see that this is how it is. It can empower all sorts of people to take a step back and look at how they're viewing their life and if they're happy with their choices."
"This show really highlights the segue into where we are now and I think it's a good process, but we need to still do better," Pytel said. "Women in the workplace are a good thing and this show highlights how they can make a change and how impactful they are."
"9 to 5" has helped student actors expand their resumes in various ways.
Pytel, part of the ensemble, has enjoyed working on her dancing roles in the musical's dream sequences.
"They are vastly different from one another," she said. "I'm in the last one, which is a Disney princess-themed one and we are little woodland animals in it. We're crawling around and skipping and it's a complete reversal from the first section, which is a big tango sequence. It's really fun."
Woods is not on stage for "9 to 5" but she is creating early 1980s-era costumes for her classmates.
"I'd typically assistant stage manage because I'm really interested in stage management," she said. "This is my first time doing costumes and I'm having a blast. It's good to know how to sew, so that'll help me in theatre jobs. The more well-rounded you are, the better."
While future actors like Solan and Woods might not fully connect with the office setting of "9 to 5" and the rows of typewriters and telephones, they do know a thing or two about what it means to work hard and deal with demanding bosses. In the world of theatre, the hours are different but the themes are the same.
"There is a set routine when you're in the city auditioning," Woods said. "You wake up at 4 a.m. sometimes and you go and wait on line. You get seen or you don't get seen and you try to get the job. For a lot of people I know it does become very routine. And to do a show that's all about their routines and their lives, it's really interesting."
"9 to 5" opens at 8 p.m. on Friday, April 13 in the Dowd Fine Arts Center Theatre. Subsequent performances follow at 8 p.m. on Saturday, April 14 and Friday and Saturday, April 20 and 21. Afternoon performances on Sunday, April 15 and Sunday, April 22 begin at 2 p.m.
Tickets are $19 for adults, $16 for faculty, staff and senior citizens, $14 for alumni and $9 for students. To purchase tickets, visit Cortland.edu/boxoffice or visit the box office on Wednesdays between 10 a.m. and 1 p.m. or Thursdays between 2 and 5 p.m.
The Saturday, April 21 performance will be alumni night and SUNY Cortland graduates are encouraged to make it a way to reconnect. Any performance is a perfect night out with colleagues, friends or classmates.
For more information, including group rates and incentives, contact Production Manager and Publicity Coordinator Jeffrey Whetstone at 607-753-4544.
Later this month, the College Singers Concert, scheduled for April 27, will feature selections from the 1953 musical "Wonderful Town," which features music by Leonard Bernstein. It tells the stories of sisters who venture from Columbus, Ohio to New York City to try to make their mark in writing and acting.
---