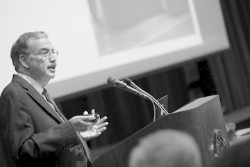 11/22/2021

Dear campus community,
I want to wish all of you a very happy and restful Thanksgiving. I hope you are able to safely travel home and visit with family and loved ones during this holiday break.
Thanksgiving is a time for all of us to reflect on our many blessings. I am grateful for so many things, especially the ways in which we were able to come back together as a campus this semester. Although the pandemic continues, we returned to a sense of normalcy through the tireless efforts of our students, faculty and staff. You took additional and extraordinary actions for the sake of the health of our community and for that I am sincerely thankful. Seeing face-to-face instruction, in-person internships, club meetings and sports on our campus once again has been wonderful.
In our rejoicing this week, we should be optimistic — cautiously optimistic — about the future ahead. Some areas of the country are seeing rising COVID-19 cases. At SUNY Cortland, we have seen the proof that strategies such as vaccination, regular surveillance testing and face coverings help to limit the virus' spread.
Please be safe, enjoy this time away and share your spirit of gratitude with others.
All the best,
Erik J. Bitterbaum
President
---