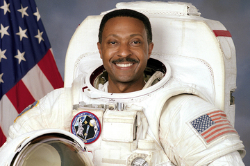 09/25/2018

Winston E. Scott is the very definition of a renaissance man.
Overcoming a childhood spent in the segregated schools of the South, Scott — remembered as the most talented musician in his high school band — graduated from Florida State University with a degree in music in 1972. He went onto become a United States Naval Aviator and test pilot, an aerospace engineer and electrical engineering professor, an author, a second-degree black belt in Shotokan karate and a senior administrator at two Florida universities.
And that's just what he's done on Earth.
Scott was recruited by NASA in 1992 and served as a mission specialist on Space Shuttle missions onboard Endeavour and Columbia in 1996 and 1997, respectively. He logged three spacewalks totaling 19 hours and 26 minutes outside the shuttles.
Scott will share his inspiring story, "To The Stars and Beyond: Reaching Your Dreams," as part of SUNY Cortland's 150th Birthday Party celebration on Saturday, Oct. 6. His talk begins at 7 p.m. in Old Main Brown Auditorium and is open to the public. Tickets are $10 for general admission, $8 for senior citizens, and free for students and Pre-K children, although tickets are required. To purchase tickets, visit the Campus Activities and Corey Union Office in Corey Union, Room 406, weekdays from 8:30 a.m. to 4 p.m. or by calling 607-753-5574. Tickets will be available at the door.
"Winston Scott exemplifies the type of well-rounded education that SUNY Cortland has offered for 150 years," President Erik Bitterbaum said. "Although he was never a Cortland Student, his broad curiosity and fearless focus on achieving big dreams is reflected in the lives and careers of our students and alumni."
Scott's presentation will include footage from space as well as his memories of NASA, the Navy, academics and music.
Attending largely segregated schools in Miami, Fla., Scott's education provided little access to resources. His determination combined with the dedication of his teachers set him on the path to achievement.
After graduating from Florida State, Scott entered Naval Aviation Officer Candidate School and served a four-year tour of duty at the Naval Air Station in North Island, Calif. He then attended the Naval Postgraduate School in Monterey, Calif., earning a master's in aeronautical engineering and went on to become a production test pilot for the Navy in Jacksonville, Fla.
He also has taught electrical engineering at Florida A&M University and Florida Community College at Jacksonville and served as vice president for student affairs at Florida State. Scott is currently the senior vice president for external relations and economic development at the Florida Institute of Technology.
Scott continues to pursue his musical passions as well as a member of the Winston Scott Cosmic Jazz Ensemble and director of a faculty band at the Florida Institute of Technology.
The event is presented by the Campus Artist and Lecture Series (CALS). The full CALS schedule for the 2018-19 academic year is available online.
---