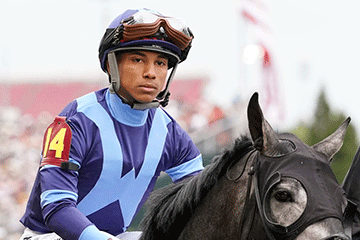 06/27/2022

Reyluis "ReyLú" Gutierrez '17 graduated from SUNY Cortland focused on becoming a physical therapist for world-class U.S. athletes.
He had no idea that he would one day become one of those top athletes.
On May 7, Gutierrez raced Barber Road in the 2022 Kentucky Derby, finishing sixth in a field of the nation's 20 fastest horses. The 26-year-old exercise science major was the youngest jockey in the race and had been one of the longest shots in the derby, with 30-1 odds.
"It was a beautiful experience, it really was indescribable," Gutierrez said of his shot in the 148th Run for the Roses and opportunity to put on a show before 147,000 fans at Churchill Downs in Louisville, Kentucky.
"It is the Super Bowl of horse racing, amongst Hall of Fame jockeys who have been doing this since before I was born," he said. "I was quite humbled to be there. It's certainly something that I've worked for my entire life. Hopefully there will be more opportunities to race there."
Gutierrez grew up around racehorses. His father, Luis Gutierrez, is a horse trainer at Finger Lakes Gaming & Racetrack in Farmington, N.Y. His uncle was a jockey.
"I started getting on horses when I was 12. I always galloped race horses at the track for my father since when I was about 15. It was really over the summer vacations, sometimes over winter break."
With his 5-foot-1 frame he seemed like a natural as a professional jockey but his mother, Rosy Gutierrez, a registered nurse, encouraged him to expand his horizons with a college degree. A lacrosse player in high school, Gutierrez suffered an injury that got him interested in physical rehabilitation.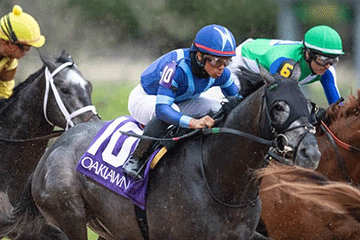 After SUNY Cortland, Gutierrez wanted to make some money to pay down his debts before embarking on the next step toward a physical therapy career. A friend suggested he work with horses. A part-time job at Finger Lakes led him to take the reins and start racing.
Surrounded by jockeys who haven't graduated from college, he soon found his degree gave him an "Exercise science to me means physiology and cardiology," Gutierrez said. "It's maintaining my weight, taking care of my body, recovery, certainly things that I've learned … that you can apply to yourself to be a better athlete."
The rest is history. Consider:
In his very short horse racing career, Gutierrez — called Rey Gutierrez in race statistics listings — has ridden his mounts to more than $18.1 million in lifetime owner earnings and captured for them more than $3.1 million so far in 2022.
His wins aboard various mounts during 2018 earned him finalist honors for the annual Eclipse Award for outstanding apprenticeship.
In 2020, Gutierrez was entrusted to ride a top colt from a top stable — Jungle Runner owned by the prestigious Calumet Farms — in the Belmont Stakes on Long Island. In that year of the pandemic, Belmont served as the nontraditional first leg of America's horse racing Triple Crown.
In 2021, he piloted Hidden Connection to his first career Churchill Downs win in the Pocahontas Stakes for 2-year-old fillies and was rewarded with his first mount in the Breeders' Cup World Championships.
Gutierrez currently moves between Louisville, Kentucky, and his childhood home of Farmington, N.Y., near Rochester and the racetrack where he learned the trade behind the scenes.
His concern for the horses he is privileged to ride is apparent whenever he talks about them, most recently when he guided the five-year-old colt Excess Magic to $100,000 in winning stakes at Lonestar Park near Dallas, Texas.
"He's excellent," Gutierrez said of Excess Magic. "He's such a kind horse. He's a small horse, actually. But he's very kind and every cue that you give him, he resolves positively."
Despite his phenomenal success, Gutierrez does not intend to spend the rest of his professional life on the racetrack.
"I just want to become a physical therapist and work with athletes," he said. "Hopefully I can have an opportunity to go back to that."
"My family, they're proud of my success. To be honest, I didn't expect to make it this far myself. But the way things are going I expect to continue going onward and forward just to be the best that I can be."
---