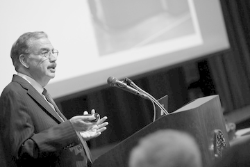 06/01/2022

Dear campus community,
June is LGBTQ+ Pride Month and it is an important time for us to recognize the achievements and accomplishments of lesbian, gay, bisexual, transgender, queer and questioning individuals.
We celebrate in June to mark the anniversary of the Stonewall Uprising. Until 1966, it was illegal to serve alcohol to a gay person in this state and many gay establishments continued to operate without liquor licenses in the subsequent years. On June 28, 1969, a police raid on the Stonewall Inn in New York City resulted in six days of protests that energized LGBTQ+ activism across the country.
Our nation, our state and our campus has come a long way since June 28, 1969. I ask that all of us continue to make SUNY Cortland a safe, inclusive and positive environment for all people.
SUNY Cortland's resources for students and employees include:
I also encourage any interested members of the campus community to participate in SUNY's system-wide Pride Art Gallery, which is accepting all types of creative work, including writing, dance, music and visual art from students, faculty and staff. Submit your work and view the creativity and expression of others at SUNY.edu/pride.
All the best,
Erik J. Bitterbaum
President
---