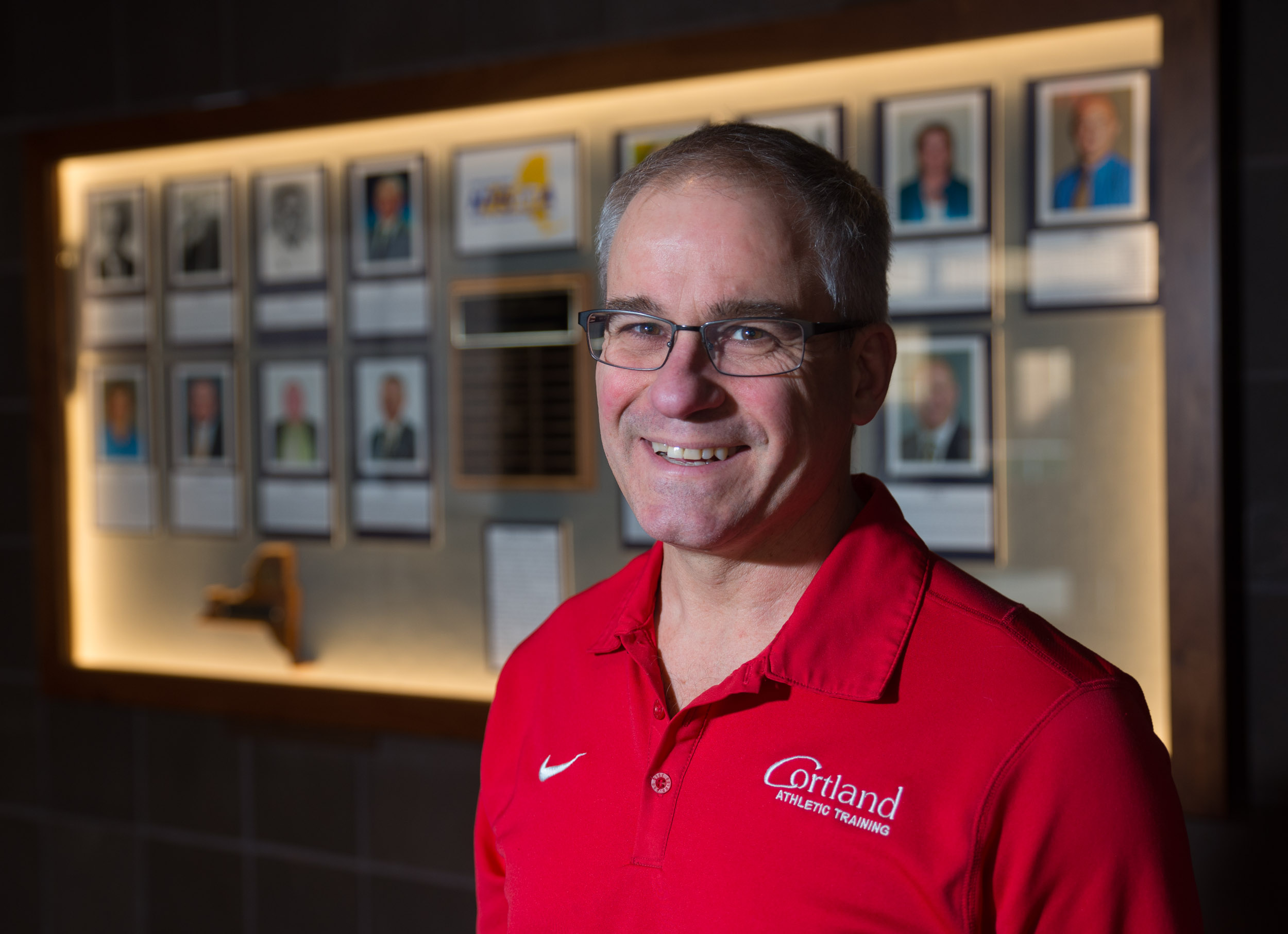 03/02/2017

The New York State Athletic Trainers' Association Hall of Fame has found a fitting home at SUNY Cortland.
After all, the NYSATA got its start in Cortland in 1976.
John Sciera, who graduated from SUNY Cortland in 1952, returned as head athletic trainer and a Physical Education Department faculty member from 1965-85. He was one of the founders of the NYSATA and hosted the organization's first meeting in his living room in 1976. Sciera was posthumously inducted into the NYSATA Hall of Fame's inaugural class in 1998.
The Hall of Fame previously was located at SUNY Buffalo. T.K. Koesterer, SUNY Cortland's Athletic Training Program director, and John Cottone, dean of the School of Professional Studies, spearheaded the hall's relocation. Its new home, the northwest corner of Park Center, was unveiled during the NYSATA's 40th anniversary celebration last year.
SUNY Cortland has more alumni — four — than any other college in the Hall of Fame. They include Sciera, Jill Dale '80, Kathryn Koshansky '80 and Steve Norman '82. Dale worked with many Elmira-area high school, college and professional teams. Koshansky chairs the Athletic Training Program at SUNY Stony Brook. Norman is head trainer at Rye County Day School.
Koesterer, who has an office located behind the Hall of Fame wall, already has noticed people taking an interest in the display. He hopes that future athletic events on campus will draw even more attention to the Hall of Fame.
"Because the association started here, I think it's important that it is here," Koesterer said. "One of the arguments I made to get it here was it's convenient. It's more centrally located than Buffalo. And the number of high school and collegiate playoffs that we have here, the number of activities we have going on here is huge. Athlete-wise, this is really the main door. I've seen people reading it and athletes looking at it to see what it is."
Other notable members of the Hall of Fame include Ed Abramoski, head trainer for the Buffalo Bills from 1960 to 1997, and Gene Monahan, the New York Yankees' head trainer for 39 years.
A growing and developing field, athletic training was recognized as a health care profession by the American Medical Association in 1991. A bachelor's degree in athletic training is the first step toward certification. On the sidelines at youth, high school, college and professional sporting events, athletic trainers work with athletes for preventative, evaluative and emergency medical care.
Nominations for the state Athletic Trainers' Hall of Fame are accepted annually by April 15. For more information, visit GoNYSATA2.org.
---