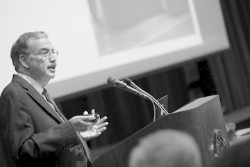 10/08/2021

Dear students,
I am delighted that many of you will see your families in Cortland this weekend. From sporting events to cider mills, our campus and our region offer many wonderful outdoor activities in the fall – some of which are listed on the Family Weekend webpage – and I hope you will enjoy them together.
With that in mind, remember to follow COVID-19 safety guidelines both on campus and in the community. Please encourage your families and visitors to do the same.
Currently, the seven-day COVID-19 infection rate for campus is 0.45%, which is a testament to the university's emphasis on vaccination, testing and masking. However, Cortland County currently shows a high rate of transmission, with an infection rate of 5.28% for the past week. The Delta variant still poses a threat so please be vigilant, especially off campus.
Some reminders about this weekend:
Visit the Family Weekend webpage for ideas on things to do. Some of our Red Dragon teams will compete outdoors. There are several suggestions for fun local excursions too.
You can show your families around campus, but remember that guests are not permitted inside residence halls or the activity area of the Student Life Center. This applies to all visitors.
Face coverings are required in all indoor settings and at outdoor events on campus regardless of COVID-19 vaccination status. This includes all athletic events.
Continue to wear face coverings off campus in public spaces or if you are together indoors with people outside of your household.
As always, please treat our Cortland neighbors and their property with respect. Your behavior directly impacts their lives.
As a campus, we have made good progress over the past several weeks by increasing our COVID-19 vaccination rate and testing capacity. I truly appreciate your continued efforts and I hope you will enjoy the upcoming weekend, especially if your family is visiting. Make the most of the time spent with your loved ones and please do so safely.
All the best,
Erik J. Bitterbaum
President
---