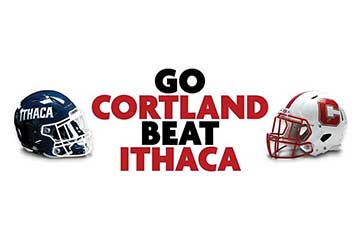 11/04/2022

On Cortaca Jug game day, there are worse things than feeling a little blue.
There's wearing blue.
But that's what's going to happen to President Erik J. Bitterbaum if SUNY Cortland doesn't win the Cortaca Challenge by recording more unique Cortaca donors than Ithaca College.
Beginning at midnight on Monday, Nov. 7, Cortland and Ithaca will compete off the field to see which institution has more supporters making a gift before the challenge ends on Sunday, Nov. 13, at 11:59 p.m. Gifts of all amounts and to any designation count in the competition.

If SUNY Cortland wins in this arena, Ithaca College President La Jerne Terry Cornish will put on and wear a red SUNY Cortland sweatshirt. But if Cortland comes up short, President Bitterbaum will have to don a piece of Bombers' blue attire.

"This is a wonderful opportunity for members of the SUNY Cortland community to show their school spirit and raise funds for scholarships and key initiatives," Bitterbaum said.

Visit RedDragonNetwork.org/cortacachallenge to learn more about how you can get involved next week, and help Cortland beat Ithaca in the Cortaca Challenge.
Challenge donors also have an opportunity to dramatically increase the impact of their gift, thanks to matching gifts offered by generous SUNY Cortland alumni.
Bill Haines '63 will make a dollar-for-dollar match of up to $100,000 to the Cortland Fund for all gifts between Nov. 7 to 13. And at least seven other supporters have pledged gifts to be unlocked when donations reach specific challenge goals.
The challenge is part of a much larger, weeklong Cortaca Jug celebration on campus, culminating in the 63rd Cortaca Jug on Nov. 12 in Yankee Stadium.
About 37,000 tickets have been sold, and a limited number of tickets are still available. If you want to go, act now.
All Red Dragon alumni interested in painting the Big Apple red are invited to the Alumni Association's Cortaca Eve parties in Manhattan and to the SUNY Cortland tailgate event at Billy's next to Yankee Stadium in the Bronx.
Remember, there is no tailgating allowed in Yankee Stadium's parking areas. Anyone going to the game should familiarize themselves with the stadium's rules.
The game will be televised on the YES Network, the most-watched regional sports network in the United States.
Non-subscribers will be able to view a live stream of the game at ICTV.org, Ithaca College's student-run television production organization. Fans can also follow the action online via WICB, Ithaca College's student-run radio station with live stats from the Ithaca College athletics website.
---