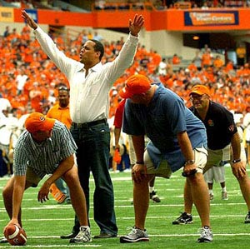 03/28/2014

Donald McPherson, a former NFL quarterback and College Football Hall of Famer, believes violence against women won't end until men change the way they view women and take a more active role in preventing rape, abuse and assault against them.
McPherson, who starred on the gridiron at Syracuse University and is a national leader in the fight against domestic abuse, will bring his message to the campus community at 7 p.m. on Wednesday, April 2, in the Corey Union Function Room.
His talk, "You Throw like a Girl," is presented by Students Active for Ending Rape (SAFER) as part of the College's ongoing Wellness Wednesday series of events. The presentation is free and open to the public.
"Don's program will show a different perspective on sexual abuse and domestic violence from a male's point of view and how men need to have both a masculine and feminine side when dealing with sexual assault," says SAFER president Megan Wise.
McPherson believes that calling sexual assault a "women's issue" allows men to ignore it and avoid taking part in the conversation.
Syracuse University's former quarterback today speaks on relationships from a male point of view.
He will share his ideas on "toxic masculinity" and men's men's narrowing expectations of what being a man means. He feels there is a prevalent perspective that girls and women are "less than" men. His presentation focuses on nurturing positive language and an understanding of masculine identity.
McPherson grew up in West Hempstead, N.Y., where he was a high school All-American athlete in football and track. At Syracuse University, he was a unanimous All-America quarterback and led the 1987 football team to an undefeated record as captain. McPherson set 22 school records, led the NCAA in passing and won more than 18 national "player of the year" awards. In 1987, he was runner-up for the Heisman Trophy. In 2009, he was enshrined in the College Football Hall of Fame.
McPherson also had a seven-year career as a professional football player for the NFL's Philadelphia Eagles and Houston Oilers. He then played in the Canadian Football League's Hamilton Tiger-Cats and Ottawa Rough-Riders.
During the offseason, McPherson stayed active in the community by speaking at school and community based programs, discussing issues such as drunk driving, substance abuse, bullying, youth leadership and mentoring. After he retired from professional football in 1994, McPherson joined the Northeastern University's Center for the Study of Sport in Society as national director of Athletes in Service to America.
While at Northeastern, McPherson turned his focus to the issue of "men's violence against women." From there, he became director of Sport in Society's Mentors in Violence Prevention Program (MVP), earning a reputation as a national leader and advocate for the prevention of sexual and domestic abuse.
McPherson also has worked as a college football analyst for ESPN, BET and NBC. He currently provides expert analysis on XM Satellite Radio and is a studio analyst for SportsNet New York's coverage of Big East football.
For more information, contact Cathy Smith, health educator in the Health Promotion office, at 607-753-2066.
---