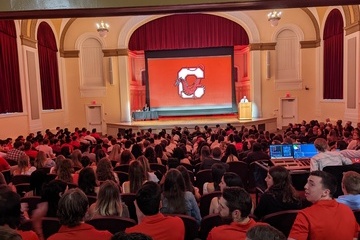 05/03/2022

The 2022 SUNY Cortland C-Club Athletic Awards Ceremony, held May 2 at the College's Brown Auditorium in Old Main, honored the top student-athletes from among the 600-plus who competed on Cortland's 25 men's and women's intercollegiate teams during the past academic year.
The SUNY Cortland C-Club Male Senior Athlete of the Year Award was shared by men's soccer midfielder Blake Aronson (Huntington Station/Walt Whitman) and baseball outfielder Scott Giordano (Croton-on-Hudson/Croton-Harmon), and the C-Club Female Senior Athlete of the Year Award was awarded to women's lacrosse midfielder/attacker Hannah Lorenzen (Stony Brook/Ward Melville). The awards are sponsored by the C-Club and were voted upon by Cortland athletic administrators.
Aronson earned first-team All-America honors last fall after scoring 16 goals, including an NCAA Division III leading and school-record 10 game-winning goals. Giordano was a third-team All-American last spring and this season is batting .379 with nine doubles, four homers, 40 RBI and 33 runs scored. Lorenzen earned third-team All-America honors last spring and this year has 52 goals and 18 assists for 70 points in 17 games.
Other finalists for Male Senior Athlete of the Year were: football center Michael Bailey (Bedford Hills/Fox Lane); football linebacker and wrestler Dylan Dubuque (East Greenbush/Columbia); wrestler Demitreus Henry (Brooklyn/Grand Street Campus); and track and field pole vaulter Dane Sorensen (Warwick/Warwick Valley).
Other Female Senior Athlete of the Year finalists were: soccer forward Jaden Galluzzo (Commack); ice hockey forward Grace Schnorr (Camillus/West Genesee); volleyball outside hitter Hannah Southcott (Princeton, WV); volleyball outside hitter and track and field high jumper Nicole Van Pelt (Montgomery/Valley Central); and diver Taylor Williams (Slate Hill/Minisink Valley).
The College also recognized the C-Club Male and Female Rookie Athletes of the Year. The men's winner was football defensive end Nick Lardaro (Smithtown/Smithtown East) and the women's winner was field hockey forward Keirra Ettere (Mahopac/Lakeland). The Rookie of the Year awards are limited to student-athletes in their first year of collegiate athletic competition.
Lardaro was named the Empire 8 Rookie of the Year and ECAC Defensive Rookie of the Year after registering 51 tackles, including 18 for loss. Ettere scored 26 goals, the most ever by a Red Dragon freshman, and was named a second-team All-American and the Division III National Rookie of the Year.
The other men's rookie finalists were: wrestlers J.C. Cardenas (Brooklyn/Grand Street Campus) and Cody Merwin (Walton); football running back Jaden Alfanostjohn (Westhampton/Westhampton Beach); ice hockey forward Sutter Donegan (Cicero/Cicero-North Syracuse) and defenseman Johnny Facchini (Succasunna, NJ/Roxbury); diver Lance Meeson (Clifton Park/Shenendehowa); and track and field jumper/hurdler Roland Zanger (Port Jervis).
The other women's rookie finalists were: golfer Paige Cerminaro (Howell, NJ); field hockey forward Hanna Corrigan (Barneveld/Holland Patent); ice hockey goalie Molly Goergen (Eden Prairie, MN) and forward Mia Hlasnick (Olean/Portville); volleyball middle blocker Alexa Guedez (Rye/Rye Neck); basketball forward Corinne Miedreich (Pearl River); and softball second baseman Halle Wright (Ballston Spa).
Football quarterback Brees Segala (Webster/Webster Schroeder) received the Carl "Chugger" Davis Award, which is given to a senior male athlete for strong leadership skills and athletic achievement. Segala was named the Empire 8 Offensive Player of the Year last fall and was a Division III National Player of the Year Gagliardi Trophy semifinalist after completing 199-of-289 passes for 2,620 yards and 31 touchdowns. Davis was Cortland's head football coach from 1932 to 1962 and also coached baseball, basketball and golf.
Southcott received the M. Louise Moseley Award, which goes to a senior female athlete who has demonstrated both strong leadership skills and athletic achievement. An honorable mention All-American and the SUNYAC Player of the Year, Southcott finished with 385 kills and 272 digs in 28 matches last fall. Moseley was Cortland's Director of Women's Athletics from 1966-78. A pioneer for women's athletics, she played an integral role in the start of women's intercollegiate athletics at Cortland in the late 1960s.
Women's ice hockey player Quinn Metcalfe (Churchville/Churchville-Chili) earned the Whitney T. Corey '43 Award, which is presented to the senior female student-athlete with the highest cumulative grade point average. Metcalf is a biomedical sciences major with a 4.03 overall GPA prior to the spring semester. Corey coached men's basketball at Cortland in the 1950s and early 1960s and also served as the school's vice president for academic affairs. The main gymnasium in Cortland's Park Center bears his name.
Football player Dom Gombetto (Fairport) received the Robert J. Weber Award as the senior male student-athlete with the highest cumulative grade point average. Gombetto is a healthcare management major with a 3.78 overall GPA prior to the spring semester. Weber was Cortland's director of athletics for 12 years and the Chairman of the Men's Physical Education department for 15 years. He worked at Cortland from 1952-85.
Women's track and field athlete Taylor Hunter (Buffalo/Tapestry Charter) and men's basketball team manager Toby Reome were co-winners of the Peter J. Cahill '66 Award. The award, named for Cortland's former swimming and diving and women's tennis head coach, is presented to either a current student-athlete or non-athlete student for involvement in activities outside of sports and/or contributions to the Athletics Department.
Hunter has been a standout sprinter who won the SUNYAC outdoor 100-meter dash title last spring and was on an All-America 4x100-meter relay in 2019. Hunter is currently SUNY Cortland's Student Government Association president. Reome is the grandson of Shirley Cahill and the late Peter Cahill, and Shirley presented the awards to Reome and Hunter. Reome served as Cortland's men's basketball team manager and worked as an event staff members at Cortland's home football games.
The Unsung Hero Awards were presented to men's soccer back Nicholas Pfeiffer (Commack) and women's lacrosse defender Amanda Squillini (Stony Point/North Rockland). The awards recognize accomplishments of student-athletes who led their team to success in ways that cannot always be measured in statistical categories and who exemplifies the characteristics of a true leader - excelling in the classroom, and demonstrating humility, work ethic and integrity at all times in both practice and competition.
Pfeiffer started 21 games last fall and registered two goals and two assists while helping lead a Red Dragon men's soccer defensive unit that allowed less than a goal per game. Squillini has started all 17 games this spring for the Red Dragons' women's lacrosse team, which is currently 13-4 and is the top seed in the upcoming SUNYAC tournament with a 9-0 league mark.
The C-Club Coach of the Year Award was presented to women's volleyball head coach Erin Glickert. Glickert earned both regional and SUNYAC Coach of the Year honors after guiding the Red Dragons to a 27-4 record, the SUNYAC title and the second round of the NCAA Division III tournament last fall.
SUNY Cortland Provost and Vice President for Academic Affairs Mark Prus and Associate Vice President for Institutional Advancement Rich Coyne were announced as winners of the Fraser Stokes Awards, given for dedication and service to Cortland Athletics. Prus, who in his role oversees the Cortland Athletics Department, is retiring after 20 years at Cortland, including 14 in his current position. Coyne, a 2007 Cortland alum and former Red Dragon football player, has played a key role in fundraising efforts to support the Athletics department.
The Judson and Elise Taylor Team GPA Awards, named after the former SUNY Cortland president and his wife, were presented to the men's and women's athletic teams with the highest cumulative grade point averages. The men's cross country team, with a cumulative GPA of 3.26, won the men's award, and the women's award was won by the women's gymnastics team with a cumulative GPA of 3.51. The men's cross country team won the award for the sixth time overall and the first since 2013. The women's gymnastics team captured its third honor in the last five years and seventh overall.
The "Record Breaking Performance" award was presented to men's distance runner Ryan Cory (Beacon), who twice this past winter set the school record in the 3,000-meter run, which was previously established in 2008, as well as breaking a 15-year-old school record outdoors in the 5,000-meter run.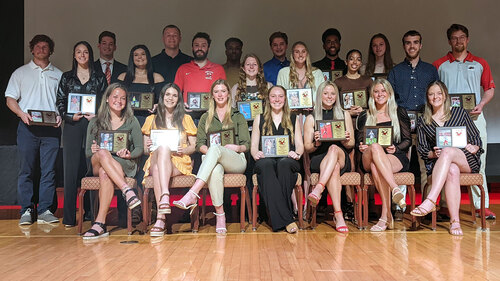 Each year, the Cortland head coaches select a Red Letter Award winner in their respective sports. The Red Letter may be given for outstanding athletic skills, team leadership, personal development as a player, or for any combination of reasons. The 2021-22 Red Letter Award winners, by sport, are as follows:
Baseball: Danny Coleman, Sr. (Saratoga Springs)
Men's Basketball: % Austin Grunder, Jr. (Trumansburg/Charles O. Dickerson)
Women's Basketball: Shannon McGuire, Gr. (West Babylon)
Men's Cross Country: Ryan Cory, Jr. (Beacon)
Women's Cross Country: Cat Zamroz, Gr. (Levittown/Island Trees)
Field Hockey: Megan McGuinness, Sr. (Carle Place)
Football: Brees Segala, Sr. (Webster/Webster Schroeder)
Women's Golf: Amanda Gaffney, Sr. (Williamsville/Williamsville East)
Women's Gymnastics: Abby Bang, Jr. (Montgomery, MA/Gateway Regional)
Men's Ice Hockey: Luca Durante, Jr. (Brampton, ON/St. Marguerite d'Youville)
Women's Ice Hockey: Olivia Wilburn, Gr. (Stockton, CA/Stockton Collegiate International Schools)
Men's Lacrosse: Kyle Boden, Sr. (Wading River/Shoreham-Wading River)
Women's Lacrosse: Paige Potter, Gr. (Cortland/Cortland)
Men's Soccer: Nicholas Pfeiffer, Gr. (Commack/Commack)
Women's Soccer: Bryn Thompson, Jr. (Hopewell Junction/Arlington)
Softball: Alyssa Finno, Sr. (Hurley/Kingston)
Men's Swimming and Diving: Sean Zupko, Fr. (Montgomery/Valley Central)
Women's Swimming and Diving: % Taylor Williams, Sr. (Slate Hill/Minisink Valley)
Women's Tennis: # Abby Madigan, Jr. (Endicott/Union-Endicott)
Men's Indoor Track and Field: Aaron Jones, Jr. (Buffalo/Hutch Tech)
Women's Indoor Track and Field: Elizabeth Liriano, Jr. (New York/Manhattan Center for Science and Math)
Men's Outdoor Track and Field: Ryan Cory, Jr. (Beacon)
Women's Outdoor Track and Field: Danielle Fisk, So. (Honeoye Falls/Honeoye Falls-Lima)
Women's Volleyball: Hannah Southcott, Sr. (Princeton, WV)
Wrestling: $ Demitreus Henry, Sr. (Brooklyn/Grand Street Campus)
# also won the award in 2019-20 and 2020-21
$ also won the award in 2020-21
% also won the award in 2019-20
---