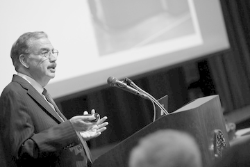 06/22/2022

Dear faculty and staff,
SUNY Cortland will open the 2022-23 year with Academic Convocation on Sunday, August 28 at 4 p.m. The event will be followed by a dinner for faculty, staff and new students.
This is an important first step for the university's new students to meet and connect with faculty and staff and to be officially introduced and welcomed to campus. Academic Convocation is open to all first-year and new transfer students as well as faculty, librarians and professional staff. We hope you will be able to join us and help greet SUNY Cortland's newest students. This is a vital university tradition and we are glad to be able to host it again.
Additional details will be shared with you later this summer.
All the best,
President Erik J. Bitterbaum
Provost Mark Prus
---