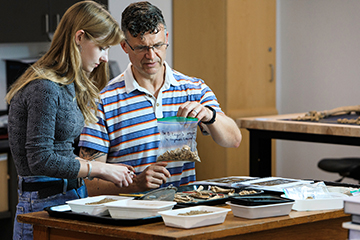 08/08/2023

Unidentified human bones might be unsettling to some. But for SUNY Cortland student Caleigh Pfalzer, they're an intriguing mystery that must be solved in order to return a donated collection of human remains to their rightful Indigenous descendant community.
Pfalzer, a dual major in anthropology and criminology, has spent the summer working in SUNY Cortland's Bioarchaeology and Forensic Anthropology Lab under the guidance of Associate Professor Kent Johnson. She is methodically sorting through four boxes that were given to the university by an amateur archaeologist in the early 2000s — boxes that include partial skulls, fragmented bones and other organic materials likely dating back hundreds of years.
Her effort, supported as a Michael J. O'Reilly '58, M '63 undergraduate research summer fellowship, is an important first step of a repatriation process that will return the remains to their descendants and list them in the Federal Register, the official journal of the U.S. government. The materials are governed by the Native American Graves Protection and Repatriation Act (NAGPRA), which maintains that centuries-old human remains and cultural items belong to the people of the tribal lands where they are found.
"We know very little about these remains, so Caleigh's doing the initial inventory that has to be part of the Federal Register listing," Johnson said, noting that any further academic research requires the permission of their Indigenous community. "It can be a real challenge, but it's a great learning opportunity in so many ways."
It is unknown exactly where the remains were found, or what Indigenous community they belonged to, although Johnson speculated that they predate European settlers. Determining their approximate age would require radiocarbon dating, a destructive process that cannot take place without permission of descendants.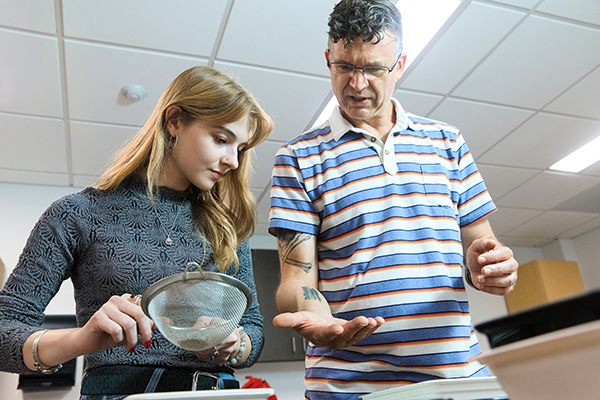 In a sense, Pfalzer's summer work involves piecing together an imperfect puzzle using microscopic context clues and her knowledge of human osteology, which studies the skeleton and bone structures. Pfalzer is looking to determine the minimum number of individuals present by completing skeletal inventories for each layer of the boxes.
"It's like someone else put a puzzle together, removed about a third of the pieces and then tore the actual image off some of the other pieces," Johnson said.
Among Pfalzer's tools: a sieve to separate tiny items from soil such as fragmented bones, seeds and plant materials; a full human skeleton model for reference; and a laptop computer to catalog her findings in a spreadsheet.
SUNY Cortland's Archaeology Lab in Moffett Center has held artifacts such as animal bones that were donated to the university as potential teaching materials for many years. Sometimes, that material includes human skeletal remains kept in storage. During the Fall 2022 semester, Johnson and Assistant Professor Hollis Miller came into possession of the remains that were given to SUNY Cortland roughly 20 years ago.
Very few confirmed details are known about the remains, other than they came from an amateur collector's family in the Binghamton area following his death. As part of her summer work, Pfalzer found the collector's obituary, which included mentions of participation in a statewide archaeological organization.
She hasn't been fazed by the meticulous work or the degree of difficulty that comes with bone identification. She has taken several courses taught by Johnson, including the summer experience's prerequisite in human osteology.
"I wasn't scared to handle the bones," said Pfalzer, who grew up in Akron, N.Y., and earns a $4,000 stipend plus campus housing during the summer as a research fellow supported by the Cortland College Foundation. "I was more excited to look right in.
"If anything, I was more worried about my confidence and ability in identifying the bones. … But staring at them for eight hours a day, I picked it up pretty fast."
A major highlight involved Pfalzer finding and identifying three auditory ossicles — tiny bones within each ear that are rarely recovered. Johnson had never encountered them in unidentified remains during his research career, and even textbooks report that they're unlikely to be found.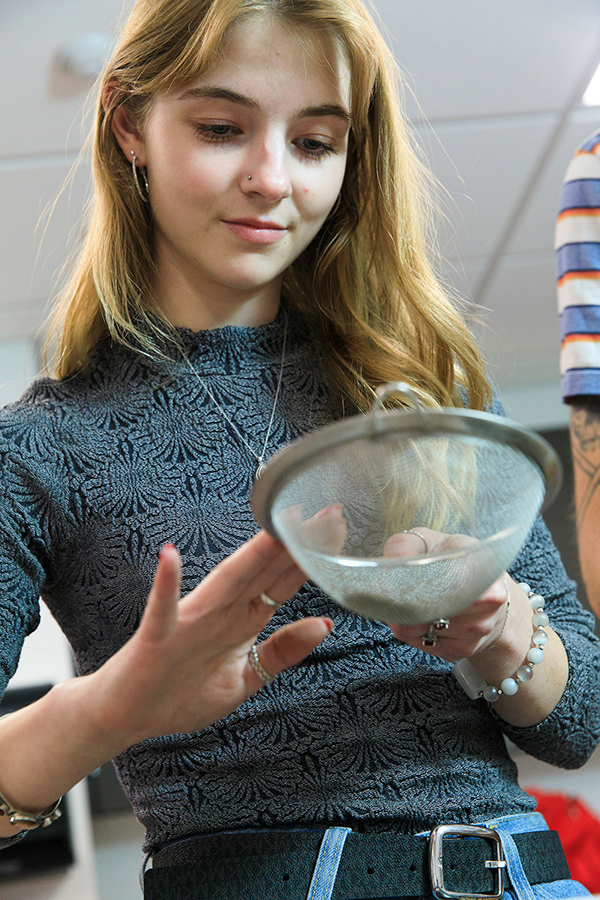 "If you were to ask me, I would say there's a 0.01% probability (of finding them), but Caleigh was determined," said Johnson, a bioarchaeologist who traces his passion to human osteology courses from his graduate training at Arizona State University.
Another small success came while sifting through soil accompanying the bone fragments. Pfalzer found an insect wing and identified a potential species match that could help determine the location of the original remains, after follow-up consultation with an entomologist.
"It's not just about the bones," she said. "It's about finding any context."
The in-depth academic work also has helped shift Pfalzer's post-graduation plans. She came to Cortland as a criminology major and Spanish minor, with the intention to pursue a career with the FBI. But an information session during her COR 101 first-year experience and subsequent courses with Johnson, her academic advisor, revealed the potential to investigate past people and societies through human remains as a forensic anthropologist.
The identification portion of the research project is expected to wrap up by early August, and Pfalzer hopes to assist Johnson during her senior year with the nondestructive analyses that are necessary to complete the inventory for the Federal Register.
She eventually plans to pursue advanced graduate-level training in forensic anthropology after graduating.
"This is one of those make-or-break experiences that will make Caleigh a highly competitive candidate for those (graduate) programs," Johnson said. "She got paid to do applied research with archaeological human remains.
"That experience itself is invaluable."
---