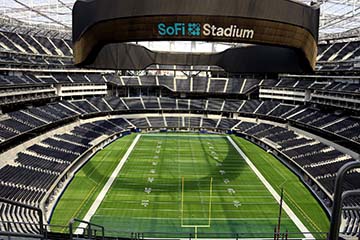 02/09/2022

When Super Bowl LVI kicks off at SoFi Stadium in Los Angeles, the Cincinnati Bengals and Los Angeles Rams will compete for the Lombardi Trophy on the field — and several Cortland Red Dragons will play key roles too.
They include:
Dan Pitcher '10, M '11, a decorated former student-athlete, coaching Cincinnati star Joe Burrow and the Bengals' quarterbacks group as an assistant on the sidelines;


Katie Keenan '05, M '10, an alum who has ascended to be the NFL's senior director of event operations, coordinating key logistics for the league on gameday; and


A group of four current sport management students, working behind the scenes as part of a weeklong trip to gain industry experience in Los Angeles.
Red Dragon connections to marquee sporting events have become common, given SUNY Cortland's reputations in coaching, sport management, athletic training, exercise science and many other disciplines.
Several of those strengths will be on display this Super Bowl Sunday.
Dan Pitcher '10, M '11
The ultimate scholar-athlete during his Cortland days, the former quarterback was a finalist for the 2011 Gagliardi Trophy, Division III's national player of the year award, as well as a first team Academic All-American with a grade point average surpassing 4.0.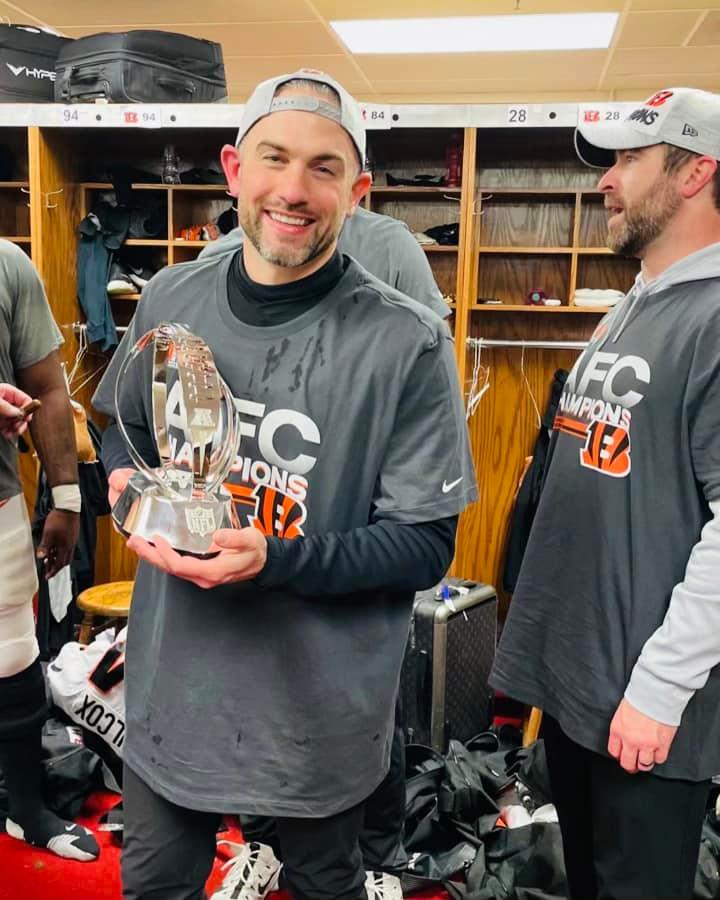 Pitcher has served as Cincinnati's quarterbacks coach for the past two seasons and an assistant on staff for six years overall. His 10-year NFL career started with the Indianapolis Colts in their scouting area.
He is considered one of the Bengals' bright young offensive minds given his work with second-year signal-caller Burrow. During Super Bowl media availability on Feb. 7, Burrow offered high praise for Pitcher.
"I couldn't have asked for a better quarterbacks coach," Burrow said, according to the Bengals' official website. "When I need to vent a little bit, he sits there and listens to me. It's good to have a coach that isn't going to put you down or lecture you all the time. Sometimes coaches have to listen to players vent a little bit. He not only does that, but if I have a question, he comes with an answer right on the spot. I couldn't ask for a better situation."
Pitcher was born and raised in Cortland and still maintains strong ties to the community through his family. Read more about his path to the Super Bowl.
Katie Keenan '05, M '10
The NFL's biggest event of the year is in good hands with a former SUNY Cortland sport management major serving as the league's senior director of event operations. She was promoted to the position in July and recently featured in a Los Angeles Business Journal profile.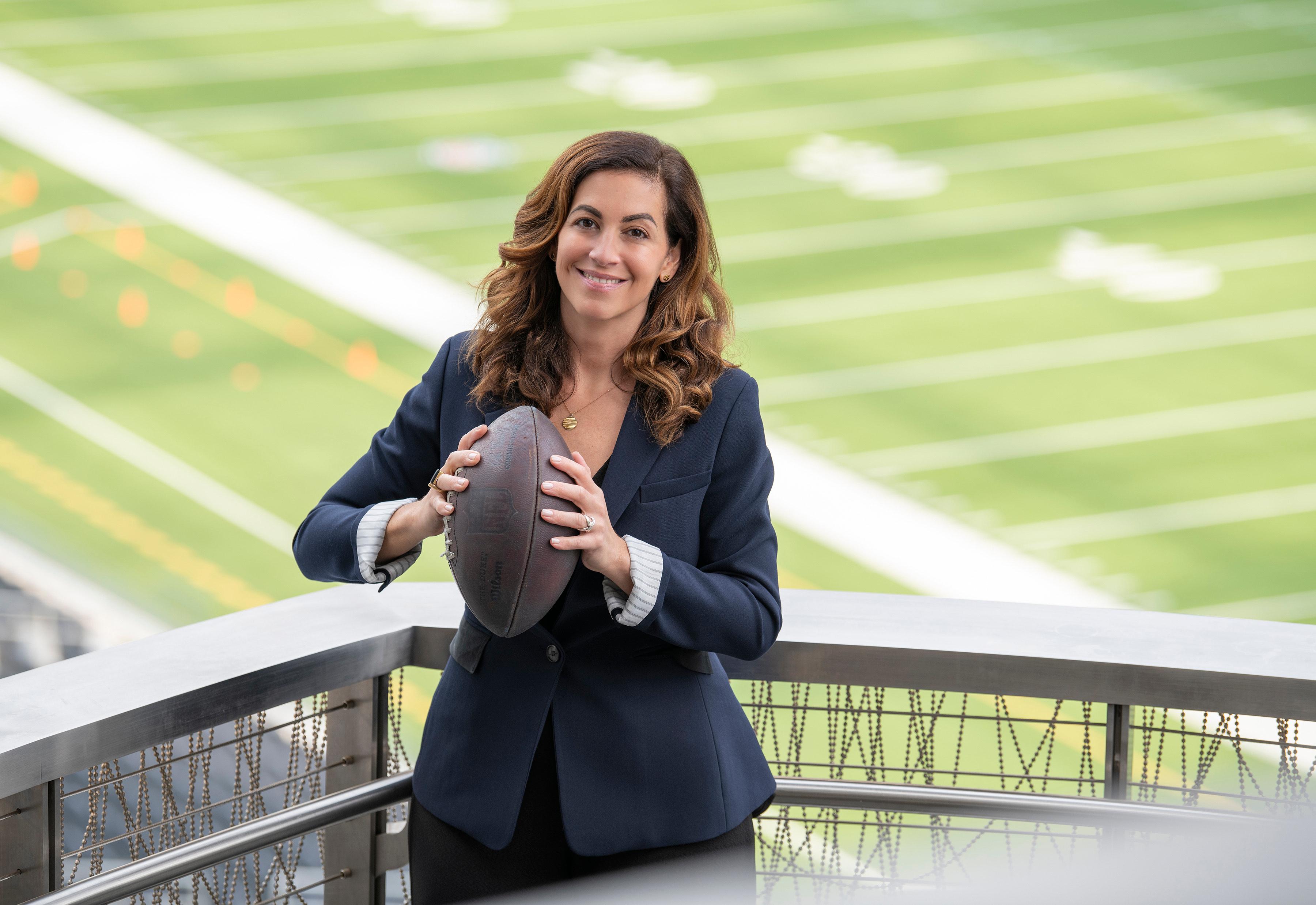 Keenan will help lead the coordination of many logistical details at the first Super Bowl in Los Angeles in nearly 30 years — from broadcast elements to access credentials to partnerships with businesses providing signage, catering, restrooms and transportation.
Producing the six-hour event at brand-new SoFi Stadium requires many months of planning and a massive "group effort." This year will mark Keenan's 10th Super Bowl after working her way up through multiple positions within the most popular sports league in the U.S.
The Super Bowl marks just one of the events that she works on throughout the year. They include the NFL Draft, the league's Kickoff event, the International Series and several others.
Keenan's more than 16-year career in professional sports can be attributed to her work ethic and her drive to seize opportunities from a young age. In addition to earning two degrees from SUNY Cortland, she pursued a minor in Spanish as an undergraduate, which helped land an internship with the International Paralympic Committee.
Keenan remains connected to Cortland through the university's Sport Management Advisory Board. Read more about her in this 2016 alumni feature.
Sport management majors
Four undergraduate sport management majors took a cross-country flight for a weeklong immersive experience in Los Angeles. The trip started with seminars at several pro sports stadiums and it will conclude with a four-day work experience at Super Bowl-related events.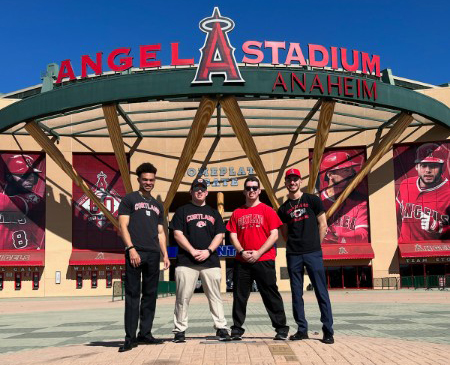 The student group included Andrew Celio, Kyle Celio, Theo Riley and Joe Valerino.
During the early portion of their trip, students heard from industry professionals at Dodgers Stadium, home of MLB's Los Angeles Dodgers; Angel Stadium of Anaheim, home of MLB's Los Angeles Angels; and Crypto.com Arena, home of various teams including the NBA's Los Angeles Lakers, the NHL's Los Angeles Kings and the WNBA's Los Angeles Sparks.
They'll work at various events tied to the Super Bowl from Thursday through Sunday.
Their journey was coordinated by Living Sport, an organization that plans domestic and international sports industry trips for current college students and young professionals. Lawrence Brady, an instructor and internship coordinator in the Sport Management Department, connected the students with Daniel Koch '21, who worked at Super Bowl LV in Tampa Bay through Living Sport. Koch is now guest experience coordinator for the NFL's Jacksonville Jaguars.
"I love it when students are willing to take those chances, bet on themselves and engage with opportunities like this," said Ryan Vooris '08, associate professor and chair of the Sport Management Department. "It's not every day you get to work at the Super Bowl.
"Talk about a résumé-builder."
---