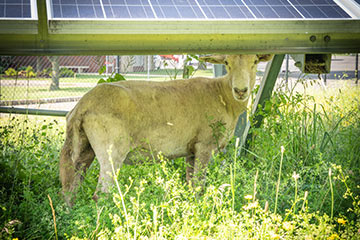 07/17/2023

Have you herd? A flock of sheep are at SUNY Cortland to help power the university and fight climate change.
Sheep have again been enlisted as grazers at SUNY Cortland's two solar arrays on Stratton Drive near State Route 281. With big appetites and bottomless stomachs, they reach nooks that would require contortions from a man or woman with a mower.
Cortland uses 2,443 panels that produce approximately 1,118 kilowatts of electricity. This is the third year that sheep have been used on campus.
"The benefits are numerous," said Mike Quinlan, owner of Ironwood Grazing Company, which provided the lowest bid to Cortland and was selected for the university's sheep services this summer.
"For the owners and managers, maintaining a solar field mechanically can be very difficult. They are difficult to mow, and you still cannot get to all of it without string trimming, both of which typically require gas-operated equipment which depreciates and needs maintenance. It also requires labor that can be better served elsewhere."
There are six adult sheep and five lambs on campus, with all the adults being ewes (females). Quinlan says he uses rotational grazing with the sheep, which helps improve soil quality, limits erosion and encourages plant growth of native species. The results are clean fields and cleaner energy.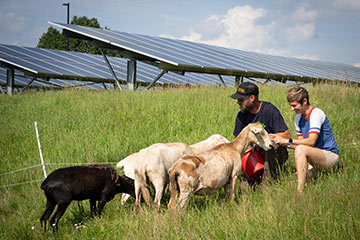 The sheep this year also have a new hometown connection — Quinlan's wife, Emily, is assistant director of Care and Outreach Services at SUNY Cortland.
"Emily has been pivotal to the operation," Quinlan said. "Although I manage the day-to-day shepherding, Emily is involved in almost every major aspect of managing our flock. Past that, she really has been the 'face' of the company — managing social media, communicating to people what we are doing and pursuing leases."
In 2013, SUNY Cortland became the first in the 64-campus SUNY system to operate all its facilities using 100% renewable electricity, through a combination of solar power and the purchase of renewable energy. At a time when temperature records are breaking and the threat of climate change is apparent, the university continues to make the environment a top priority:
The Princeton Review has twice listed Cortland one of the most sustainable campuses in the United States. The finding is based on whether students have a campus quality of life that is healthy and sustainable, how well students are prepared for employment in a clean energy economy and how environmentally responsible a school's policies are.

The university has been ranked by Sierra magazine as among the top 100 colleges and universities in the nation and was the top SUNY comprehensive college on their 2021 "Cool Schools" list.

SUNY Cortland earned back-to-back gold ratings in the Sustainability Tracking, Assessment and Rating System (STARS) from the Association for the Advancement of Sustainability in Higher Education (AASHE). The gold rating places Cortland among the top 3% of all higher education institutions in the country.
Dan Dryja, director of Facilities Operations and Services (FOS), is happy with Ironwood's services.
"Mike and Emily have been a very responsive and an easy group to work with," Dryja said. "The rotational grazing they implemented here is different than we previously saw on this campus and seems effective. They are very knowledgeable about their sheep and grazing techniques and communicate their plans to our FOS team so they are in the loop."
For more information on SUNY Cortland's environmental programs, check out the Sustainability Office's website.
---