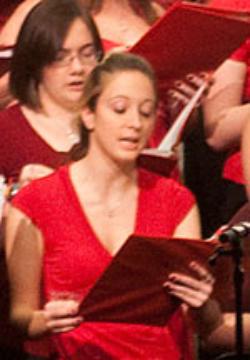 11/03/2010

Music that originated during the Renaissance through the 20th century will be featured in the Thursday, Nov. 18 concert by the College Singers at SUNY Cortland.
Directed by Stephen B. Wilson and accompanied by Richard Montgomery, both of the Performing Arts Department, the concert will begin at 8 p.m. in the Dowd Fine Arts Theater. The performance is free and open to the public.
The program will include two medleys, "Les Miserables" and "Starting Here, Starting Now." "Les Miserables," from the world-famous musical, features soloists Samantha Rey, Lauren Kovacic, Carly Merrill, Charles O'Connor, Rasheem Ford, Michael Meaney, Davon Clarke and Natalie Luzzi. "Starting Here, Starting Now" was recently arranged by Wilson specifically for the College Singers and this will be its premiere performance. Songs from the revue of the same name include, "Starting Here, Starting Now," "Today is the First Day of the Rest of my Life," and "Travel." This last song will feature soloists Lauren Collins, Meaney, Michelle Boyllett and Matt Rogers.
Other selections will include Handel's "Come, Live with Pleasure," which is adorned by two flutists, Boyllett and Rachel Harbison, and Aaron Copland's "Stomp Your Foot Upon the Floor." Kyle Essex will be guest student conductor for this selection, as Wilson and Montgomery will perform a four-hand piano accompaniment.
The Singers will also perform a medley of pieces from Gilbert and Sullivan's "Pirates of Penzance." Soloists in this perennial favorite will be Alysia Guido, Sara Laursen, Meaney, Ford and Matt Rogers.
Wilson also has arranged a traditional Scottish folk song, "Cumnaroonana," for the ensemble. Rogers and O'Connor will be the soloists.
The concert is sponsored in part by the Student Activity Fee.
For more information, contact Wilson at (607) 753-4615.
---