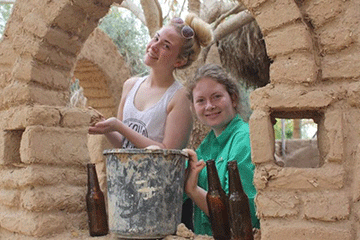 06/30/2020

During a global pandemic, study abroad doesn't necessarily mean going abroad.
Approximately 19 students from across SUNY will spend part of their summer looking at ways to boost the economic prospects for people living in the Negev, a picturesque, culturally diverse desert and semi-desert region of southern Israel.
The six-week course, International Perspectives in Poverty, addresses the United Nations' number one sustainable development goal: eliminating poverty across the planet.
The curriculum calls for students to pair this class with a three-credit course on Intercultural Storytelling, taught through Empire State College.
Led by Kenneth Cohen, associate professor of recreation, parks and leisure studies at SUNY Cortland, the multi-disciplinary, three-credit study-abroad elective course is managed through SUNY Cortland's International Programs office.
"There are other recreation programs in SUNY, but we offer the most comprehensive accredited program," Cohen said.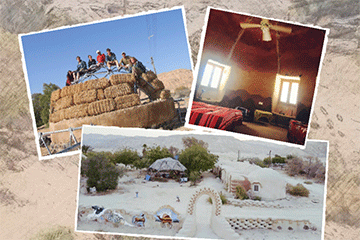 The course is one of many projects underway this summer through a partnership between SUNY's Center for Collaborative Online International Learning (COIL), SUNY Empire State College, SUNY Cortland, SUNY New Paltz, SUNY Geneseo and SUNY Brockport, called the SUNY 2020 COIL Global Commons.
In addition to solving actual problems in the region, the course seeks to fill a gap created when SUNY Cortland was forced to cancel its study-abroad programming for summer and fall 2020 due to the global novel coronavirus pandemic.
"Now, more than ever, we need to promote intercultural experiences and global learning," said Mary Schlarb, Cortland's director of international programs and a member of the Global Commons program's steering committee.
"We have been working on this project with our SUNY and international partners to reimagine how we can provide our students, faculty and staff with international opportunities."
The COIL initiative brings together campuses across the SUNY system to launch an innovative virtual study abroad program that offers a form of international experience and cross-cultural learning while international travel is restricted due to COVID-19. Planned programs seek to act on the United Nations' 17 worldwide sustainable development goals.
Cohen's students are majoring in a diverse array of disciplines. Starting July 6, they will use their internet-connected devices to meet with one another as well as with officials and interpreters from the Center for Creative Ecology at Kibbutz Lotan, a non-profit development group in the Negev.
Over the past decade, the Negev's unique desert landscapes, historic sites and growing tourism opportunities — it is the only desert in the world that is getting greener thanks to human initiatives — have made it an increasingly popular destination. In 2012, global travel guide publisher Lonely Planet rated the Negev region as second on a list of the world's top 10 regional travel destinations, noting its transformation through development.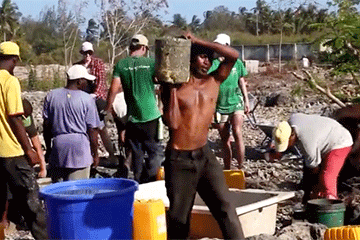 Together, the International Perspectives in Poverty students and Kibbutz Lotan will develop a wide variety of marketing materials designed to advance community capacity building and environmentally sustainable economic prosperity for that region. One means for achieving this goal is a multi-cultural ecotourism strategy between Jordanian, Bedouin and Israeli communities.
Cohen's students will learn about the region's needs, work with agency staff and develop a plan for advancing their goal. They then will work in groups to create a video, podcast or other marketing materials aimed to enhance the area's tourism.
"Recreation and tourism, when done responsibly, can be an opportunity," Cohen said of his past poverty reduction and tourism courses. "When done irresponsibly, it can further generate disparity and degrade the resource. This project will be based on a regenerative approach that supports healthy ecosystems."
Kibbutz Lotan volunteered itself for the 2020 COIL Global Commons collaboration. It is one of many community organizations the program aims to virtually connect SUNY students with to study real problems of food insecurity, poverty, gender equity, access to education, clean water and energy and climate change. All of these issues have been exacerbated by the pandemic.
"In this class, we'll be addressing sustainability goal number one, which is poverty reduction," Cohen said. "Then they will learn about that sustainable development goal, and the theories, principles and practices of poverty reduction. Then they will transition to working with their international partner."
Cohen has led students on sustainable tourism projects in Nepal, Thailand, Tanzania, Ecuador and Nicaragua. He holds a Master of Public Administration from Lewis & Clark College with a focus on organizational development and a Ph.D. in conservation social sciences from the University of Idaho.
When Cohen learned of SUNY's ambitious Global Commons project, he Immediately jumped on board.
"I had plans to take students trekking in Tibet this summer to assist a remote village with its tourism economic recovery plan post-earthquake," Cohen said. "When the COIL program was introduced, I saw an opportunity to continue to globalize the curriculum and offer students an alternative."
Students also responded to the opportunity. By the end of June, more than 160 students of all ages from 28 SUNY campuses had enrolled in a credit-bearing 2020 COIL Global Commons class.
Cohen believes sustainable tourism courses are ideal for international study as they can teach students how complex problems require interdisciplinary approaches.
"Sustainable tourism looks at the environmental, cultural and economic dimensions of responsible travel and reconciles the impacts and opportunities," he said. "You're always looking at balancing the environmental and cultural and economic opportunities."
Although the global pandemic gave rise to this online opportunity, the relationship between SUNY Cortland and Kibbutz Lotan's efforts in the Negev will continue after travel restrictions are dropped. At that point, Cohen said the course Is likely to become a real-life study abroad opportunity, with students traveling to Israel's southern desert region.
The SUNY COIL Center provides overall leadership for the Global Commons. SUNY Empire State College, with its 25 years of expertise in online education, is collaborating with SUNY COIL, SUNY Online and with campuses across the system to make it happen.
"It's an excellent example of how SUNY can leverage its diverse skills, networks, perspectives and experiences to collectively create an engaging experience for students that allows them to apply their knowledge and skills while contributing to organizations that are working to improve their communities," said Mary Lou Forward, executive director of the SUNY COIL Center.
---