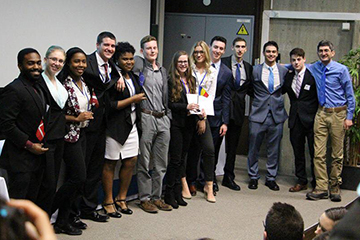 04/02/2018

Even before the European Union was founded in 1993, SUNY Cortland introduced its students to European politics. The College served as one of the six founding members of the SUNY system's Model European Union (MEU) Conference more than 30 years ago.
That's just one of the reasons it makes sense for SUNY Cortland to assume the role of presidency when the next SUNY MEU Conference takes place in New York City in 2019. The three-day event involves colleges and universities from across the world role-playing in committees on behalf of the EU's 28 member states, assuming positions that include prime ministers, ministers of foreign affairs and ministers of economy and finance.
"This is a big deal," said Assistant Professor Alexandru Balas, the College's MEU advisor and the director of the Clark Center for Global Engagement. "You want a team that's going to rise up to the challenge and prepare well in the months leading up to the conference. Our colleagues saw those qualities in us."
The presidency will require a four-student team from the College to oversee the conference proceedings and create an agenda based on current political and economic conditions in the EU. SUNY Cortland students will be trusted to understand formal procedures, chair four council meetings and cooperate during fictional press conferences with a media team comprised of students from a different institution.
"You have to know what to say, what not to say and how to respond to questions in a way that's satisfactory, even if you don't know the answer," Balas said. "This is something politicians do quite often."
In January, a group of 12 SUNY Cortland students traveled to Brussels for the MEU event, which alternates locations between the U.S. and Belgium each year. Fifteen participating institutions represented public and private campuses across the globe, and SUNY Cortland brought the conference's second-largest delegation of students.
At the College, MEU represents a meaningful opportunity for students to travel and, more importantly, develop crucial skills in writing, public speaking and negotiation. Students from any major can earn one credit for the experience, and they do not need to bring in any previous knowledge of EU politics. This past year's participants represented majors such as international studies, political science, business economics, French and Spanish.
"I tell students that MEU is a lab," said Balas, who also serves as coordinator of SUNY Cortland's International Studies Program. "It's a laboratory where they're going to get to practice and maybe make mistakes so that when they go into a job or a similar situation, they're going to know how to behave."
When she arrived at the College, sophomore Elianna Bodnar knew that she wanted to study abroad and hopefully one day pursue an international career. She joined SUNY Cortland's World First learning community as a freshman, which is how she met Balas and first heard about MEU.
In 2017, while attending her first MEU conference and role-playing on behalf of Greece, Bodnar was called on to give a two-minute speech in front of the event's approximately 200 attendees. She said it was by far the largest public speaking experience of her life.
"I was so nervous that I was shaking," said Bodnar, an international studies major from Cambridge, N.Y. "But once I finished, I just remember feeling this overwhelming sense of accomplishment."
Balas recalled that Bodnar was shy at the start of the conference, but she quickly developed a noticeable sense of confidence.
"By the end, Elianna was going toe-to-toe with a first-year master's student and supporting her key points with evidence," he said. "She grew up so much in those three days."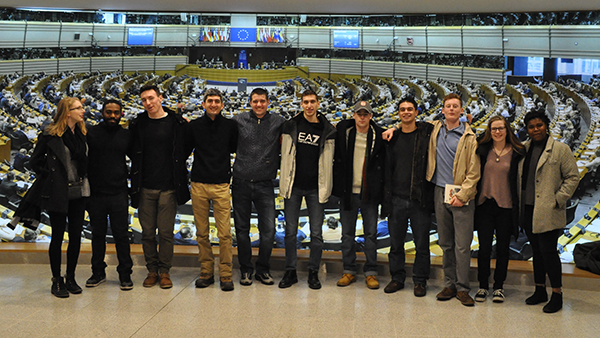 John Ortolano, a senior political science major from LaGrangeville, N.Y., discovered SUNY Cortland's MEU team by chance during the course registration process when he transferred to the College in spring 2017. It sounded different than a traditional classroom experience and he liked the added benefit of earning course credit.
"No question, it's the best experience I've had at Cortland," said Ortolano, who plans to go on to law school. "I had never been on an airplane before. Now, I feel more informed and open-minded about what's going on in the world."
In addition to three days of acting as committees from Denmark, Latvia and Romania, SUNY Cortland's 2018 group made the most of its trip to the EU's capital in Brussels. Students enjoyed visits to the European Parliament, the Council of the European Union and a meeting with a representative from Bulgaria, which currently holds the EU's rotating presidency.
SUNY Cortland students saw the debating chamber of the Parliament, the new headquarters of the Council and the House of European History. They also took part in a day trip to Ghent, the Belgian city that many of them learned about in international studies coursework dealing with the foundation of the modern world.
Although neither Bodnar nor Ortolano see themselves working in European politics after college, both agreed that the experience will help them along their career paths, whether those bring opportunities with an international non-governmental organization or practicing law.
"MEU is for the student who wants to be challenged, who has an interest in international affairs or adding new tools to their toolkit when they end up on the job market," Balas said. "It's for the student who is willing to learn a lot outside of the classroom format, in a conference setting."
The 2018 experience was funded with support from the SUNY Cortland President's and International Program offices; the Dean of Arts and Sciences; the Clark Center for Global Engagement; and the Erasmus+ Jean Monnet Module grant that SUNY Cortland was awarded in 2015.
---