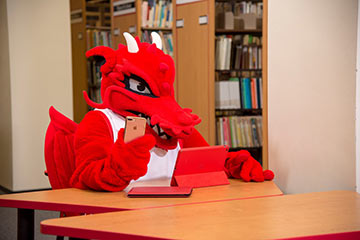 09/29/2023

On Oct. 2, members of the community were invited to join a roundtable talk on the state of local news hosted by SUNY Cortland's WSUC student radio club at the Cortland Free Library, Cortland, N.Y.

The event was thanks to the Community News Project, a recent creation at the university and part of a larger national effort to help address the decline of local news across the country. Although Cortland is served by several local news organizations, a growing number of communities now exist in "news deserts": areas that lack local media coverage and must are forced to rely on national news sources that don't provide the kind of focused, in-depth coverage a local newspaper or radio station does. WSUC recorded the talk for a later broadcast.
Caroline Kaltefleiter, professor in the Communication and Media Studies Department, is leading the local initiative to see how student reporters might help support local news organizations.
"We had a good turnout, including students, some of whom grew up in Cortland," Kaltefleiter said. "Other community members offered suggestions for stories needing further coverage including housing, particularly housing for seniors, continued coverage on the unhoused, the closing of Parker School and future use of the building, ongoing discussion of drug use in the city."
The meeting was a first step in a long-term project, Kaltefleiter said, with more community discussion to come. Eventually she and Paul Arras, assistant professor of the Communication and Media Studies Department and advisor to the Dragon Chronicle student newspaper, want the project to help local news organizations and find ways to give students real-life experience in a possible career path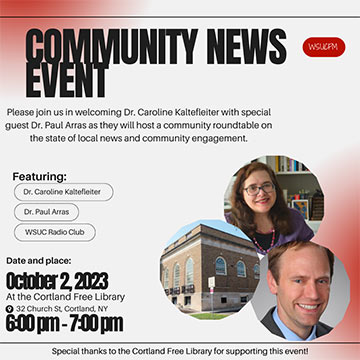 "In Cortland we're fortunate that we have a newspaper that has been around for over 100 years in the Cortland Standard," Arras said. "And we've got the Cortland Voice and the radio station (WXHC) so we're not a news desert like some other communities — even some nearby. But it's a hard ecosystem out there right now for local news and we're trying to figure out how we can use our resources in the department to help fill in some of the gaps."
Kaltefleiter noted that student help can be a valuable resource for media companies at a time when the economics of journalism is less forgiving than in past decades.
"Having worked in a newsroom, people are already spread thin, so the goal is not to give any of the media partners more work," Kaltefleiter said. "But if people are doing data-driven journalism and you need an assist in terms of research assistance or there's a need to go out and get background interviews this can be an opportunity."
Cortland's Community News Project emerged from a campus workshop created by SUNY Cortland alum Richard Watts '85, a professor and lecturer at the University of Vermont. He is the architect of the national Center for Community News, which encourages local journalism. The organization named Kaltefleiter to be one of 33 faculty champions for the initiative nationwide, providing $1,000 to each to fund the start of their own local media projects.
Kaltefleiter credits the ongoing support of the university's provost, Ann McClellan, and Cortland Free Library Director Jen Graney, but stressed that this is a long-term effort with an ambitious goal. More than just helping media companies survive, she wants people engaged with them, which she views as a core element of a healthy democracy.
"I think having strong checks and balances on the government really comes back to the press," said Kaltefleiter, a former journalist for National Public Radio and current executive producer and host of The Digital Divide on WSUC, who said she's seen the importance of local news and the damage caused by its decline.
"For people to be able to feel that their concerns are being covered — and being able to see how they tie into the community — is crucial."
Kaltefleiter cited a law enforcement raid on a small Kansas newspaper, the Marion County Record, as an example of what happens when interest fades to a point that powerful individuals feel they can take advantage of weakened news outlets. There's also the important need of citizens to know clear facts, like how taxes are spent.
"I truly believe that the loss of journalism has been accompanied by a spread of misinformation and disinformation," she said. "It's also contributed to political polarization. We've seen that in the eroding of trust in the media. And so, I feel that if you can bring people together, get them in person, and then give them the microphone to participate then perhaps we can begin to address some of these issues in terms of the digital and the economic divides."
---