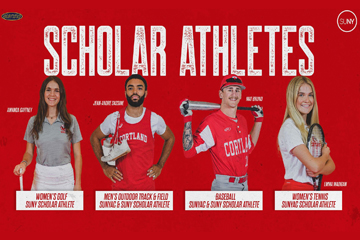 07/18/2023

Cortland senior Jean-Andre Sassine (Queens Village/The Lawrenceville School (NJ)) and graduate students Mat Bruno(Rye) and Amanda Gaffney (Williamsville/Williamsville East) have been honored as 2022-23 State University of New York (SUNY) Spring Scholar Athletes of the Year, while Sassine, Bruno and sophomore Emma Madigan (Endicott/Union-Endicott) have been chosen as State University of New York Athletic Conference (SUNYAC) Spring Scholar Athletes of the Year.

Sassine is the SUNY system's Division III honoree and the SUNYAC's award winner for men's outdoor track and field. Bruno received both honors for baseball. Gaffney is the SUNY winner for women's golf and Madigan is the SUNYAC winner for women's tennis.

Sassine is a communication studies major who graduated in May with a 3.89 overall GPA. He earned All-Niagara Region honors in the triple jump during the outdoor season and finished fourth at the All-Atlantic Region Track and Field Conference (AARTFC) championships. Sassine was an NCAA qualifier in the triple jump during the indoor season, placing 12th nationally, and he was recognized as the SUNY Scholar Athlete of the Year for men's indoor track and field.

Bruno currently has a 3.81 GPA as a graduate student majoring in physical education leadership and he registered a 3.45 GPA as a physical education undergraduate student. He earned ABCA first team all-region honors and second team All-SUNYAC honors as an outfielder this past spring after batting .367 with nine homers and 49 RBI, and he is Cortland's career leader with 25 home runs.

Gaffney sports a 4.0 GPA as a graduate student in childhood education and had a 3.56 undergraduate GPA in community health. She was the Northeast Women's Golf Conference (NWGC) Golfer of the Year after winning the league tournament crown in April, helping the Red Dragons earn their second straight trip to the NCAA Division III Championships.

Madigan is a psychology major with a 3.98 overall GPA. She earned first team All-SUNYAC honors after finishing the combined fall/spring season with an 11-1 singles record, including a 5-1 mark in league matches. She was 3-0 at fifth singles and 8-1 at sixth singles.

The SUNYAC Scholar Athlete Award winners are selected from each of the SUNYAC's 20 sponsored sports. To be eligible for the award, a student-athlete must have a minimum overall grade point average of 3.30, be a starter or significant reserve on his or her team and have an academic class standing of sophomore or higher.

The Spring SUNY Scholar Athlete Awards recognized student athletes from SUNY colleges and universities sponsoring intercollegiate athletics at the four-year and two-year levels who were nominated and voted upon by representatives of their respective institutions. Nominating information includes cumulative grade point average, current and career statistics, and athletic and academic honors.

More than 14,000 student-athletes compete at SUNY institutions representing 53 different colleges and universities at the NCAA Division I, NCAA Division III/USCAA and NJCAA levels and are eligible for the awards. The 19 Division III institutions in the SUNY system are: Alfred State, Brockport, Buffalo State, Canton, Cobleskill, Cortland, Delhi, Farmingdale, Fredonia, Geneseo, Maritime, Morrisville, New Paltz, Old Westbury, Oneonta, Oswego, Plattsburgh, Potsdam and SUNY Poly. SUNY-ESF, a member of the United States Collegiate Athletic Association (USCAA), participates in the program with the 19 NCAA Division III members for a total of 20 colleges and universities.

The SUNY Scholar Athlete Awards, which originated last fall, recognized outstanding academic and athletic success in 29 different sports and are presented three times a year to coincide with the specific sports contested in the fall, winter and spring seasons. The Scholar Athletes of the Year in each sport will then be nominated for an overall Scholar Athlete of the Year for men's sports and women's sports in each category that will be announced in mid-July. Because sport sponsorship varies among institutions, a minimum sponsorship formula has been developed for award selections. At least three institutions must sponsor the sport in the Division I category, while at least five institutions must sponsor the sport in the SUNY Division III/USCAA and SUNY NJCAA categories. For sports that do not meet the minimum threshold to be a viable award, an At-Large Category has been developed for each level and each season.
---