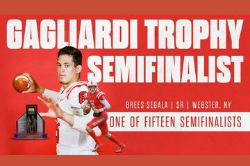 12/06/2021

Cortland senior quarterback Brees Segala has been announced as one of 15 semifinalists for the 28th Gagliardi Trophy.
The award (pronounced Gah-LAR-dee) is presented by Jostens and the J-Club of Saint John's University (Minn.) to the most outstanding football player in NCAA Division III.
The award is voted on by the 40-member Gagliardi Trophy national selection committee that includes Division III coaches, administrators, notable regional voters and national voters with Division III backgrounds. Fan balloting, which is available on D3football.com, accounts for one collective "41st" ballot. Fans may cast one ballot per device through 1 p.m. on Dec. 9.
The Gagliardi Trophy, given annually since 1993, recognizes excellence in athletics, academics and community service. The award is named after John Gagliardi, legendary Hall of Fame head football coach at Saint John's who passed away in 2018 at age 91. He retired in 2012 with 489 career victories, the most in college football history.

Segala is among a group of 12 quarterbacks, two wide receivers and one defensive back/punter/returner on the list of semifinalists, 11 of whom participated in the NCAA Division III tournament first round. The group will be narrowed to four finalists, who will be announced during a live show on Thursday, Dec. 9, on D3football.com. The 2021 Gagliardi Trophy winner will be revealed on D3football.com during the week of the NCAA Division III football national championship on Friday, Dec. 17.
The Empire 8 Offensive Player of the Year, Segala completed 164-of-240 passes (68.3 percent) for 2,144 yards, 29 touchdowns and just four interceptions, along with 85 rushes for 344 yards and five scores, in 10 regular-season games. He also completed 12-of-19 passes for 231 yards and a TD and ran for 32 yards in Cortland's 26-21 win over Springfield in the NCAA first round. Cortland lost to RPI in the second round, 21-14, on Saturday, Nov. 27.
Segala is a sport management major at Cortland with a 3.51 cumulative grade point average entering the 2021 fall semester. He is Cortland's Student Athlete Advisory Committee (SAAC) president, and he has participated in a number of campus/community events, including the Yards for Yeardley Walk in 2018 and 2019, Take Back the Night Walk in 2018 and the Cortland Athletics Community Leaf Raking in 2018. He's also been a Sunday Nights Lights Football Coach volunteer in 2017, 2018 and 2019.
Cortland has had two previous Gagliardi Trophy finalists — quarterback (and current Cincinnati Bengals QB coach) Dan Pitcher '10, M '11 in 2011 and defensive lineman Adam Haas '07 in 2006 — under a previous format where 10 players were recognized with that title.
Segala tied Pitcher's single-season school record with 31 touchdown passes and set a new program mark with a 176.9 pass efficiency rating through the 2021 season.
The 15 semifinalists for the 2021 Gagliardi Trophy are:
Ian Blankenship, Sr., RB, U.S. Merchant Marine Academy
Jefferson Fritz, Sr., DB/P/RET, Mary Hardin-Baylor
Cody Gustafson, Sr., WR, Grove City
Blaine Hawkins, Sr., QB, Central (Iowa)
Michael Hnatkowsky, Sr., QB, Muhlenberg
Tucker Horn, Jr., QB, Trinity (Texas)
Tyler Jarnagin, Sr., QB, Benedictine
Kyle Jones, Sr., QB, Hardin-Simmons
Andrew Kamienski, Sr., WR, North Central (Ill.)
Max Meylor, Sr., QB, Wisconsin-Whitewater
Braxton Plunk, Jr., QB, Mount Union
Jaran Roste, Jr., QB, Bethel
Brees Segala, Sr., QB, Cortland
Wyatt Smith, Sr., QB, Linfield
Gavin Zimbelman, Sr., QB, Aurora
Cortland football fans, did you know that the 2022 Cortaca Jug game will be played at Yankee Stadium on Saturday, Nov. 12, 2022? Tickets are on sale now through CortacaJug.com.
Alumni planning on going to the game can learn more about gatherings and hotel information on RedDragonNetwork.org. The kickoff party at Stout NYC on Friday, Nov. 11, 2022 is free. Those planning to attend are asked to register in advance. A pregame gathering at Billy's Sports Bar across from Yankee Stadium on Saturday, Nov. 12 is expected to sell out quickly. Learn more and reserve your spot today.
---