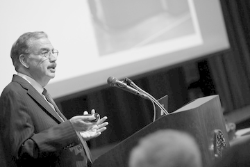 06/17/2022

Dear campus community,
Sunday, June 19, is Juneteenth, a holiday that celebrates the official end of slavery in the United States.
It is a day for us to both reflect on our nation's history and to look forward to how we must continue to provide a safe, equitable and just future for Black Americans.
While the Emancipation Proclamation was issued on January 1, 1863, slavery persisted through the Confederacy during the Civil War. It took until June 19, 1865, when a group of enslaved people in Galveston, Texas finally received a proclamation of freedom from Union army troops to officially mark the end of slavery in this country.
I ask that you take some time to think about the history of racial injustice and what we can do in our own lives to better serve our communities. I encourage you to watch a video featuring Tunde Agboke, a former assistant head football coach here at SUNY Cortland, on the importance of Juneteenth. That video is available online.
If you are able, I invite you to join the Cortland County Community of Color's Juneteenth event on Saturday, June 18 from 5:30 to 8:30 p.m. at Courthouse Park in downtown Cortland. The celebration will include speakers, vendors, food and music and will allow us to celebrate this day together with colleagues, friends and members of the Cortland community.
All the best,
Erik J. Bitterbaum
President
---