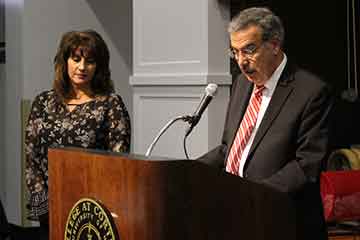 12/01/2017

Office manager Michelle Congdon tells Human Resources colleagues at SUNY Cortland that "her job is to make them shine" and she has worked tirelessly since 1999 to make that goal a reality.
Co-workers across campus made Dec. 1 Congdon's day to shine by nominating her for the prestigious 2017 President's Award for Excellence in Classified Service.
"Michelle has a wonderful ability to put people at ease," said SUNY Cortland President Erik J. Bitterbaum, who presented Congdon with the award. "In the Human Resources Office, this is a critical skill. Any employee, at any level, can approach Michelle and expect to receive a warm smile, comforting words and correct information."
Sponsored by the College's Human Resources Office, the 48th annual Service Awards Ceremony was held in the Corey Union Function Room.
The award was created in 2002 to annually recognize one SUNY Cortland full-time classified service employee "for extraordinary achievement and to encourage the continuation of excellence." Nominees must have at least three years of continuous service. Supervisors, co-workers or other College community members nominate workers considered for this honor.
Congdon has played a key but largely behind-the-scenes role in the Service Awards Ceremony in which she herself was honored this year.
"She is always going above and beyond to support our constituents in the best way possible," said Gary Evans, assistant vice president for human resources, one of many nominators for Congdon.
Congdon may be most widely recognized as chair of the SUNY Cortland Child Care Center board of directors for the past four years. She has led the other officers and board members in providing operational oversight and direction during a time period involving turnover in the center's director and numerous staff as well as budgetary concerns.
She also served as a volunteer campus coordinator of the State Employees Federated Appeal (SEFA) from 2006 to 2008, raising funds for numerous charitable organizations locally and nationally.
According to Evans, Congdon leads by example. She continually ensures that no constituent leaves the Human Resources Office without having the best possible knowledge of what his or her next step will be. Congdon then often follows up with the office where she has directed the employee to ensure that the person will get the service they requested.
"She will always go the extra mile to ensure that questions or concerns are fully addressed," Evans said.
Hired in 1999 by Human Resources at an entry level position as a keyboard specialist, Congdon quickly demonstrated the ability to learn about her office as well as the College while displaying exemplary customer service. Promoted in 2003 to clerk II and in rapid succession to principal clerk in 2007, she achieved the rank of secretary II in 2016.
"This career progression in our office provides evidence of her ability to accept new responsibilities, excel at them, and position herself for the next step in the Civil Service Employee Association career ladder," Evans said. "To be able to do this within one office is quite unique at our College and serves as one example of her exemplary service and abilities."
Eager to grow professionally, Congdon applied for and was chosen to participate as a protégé in the year-and-a-half long Research Foundation of SUNY mentorship program, which involved professional development planning, a book review, public speaking course and instruction, diversity and inclusion workshop, servant leadership session, effective communications/listening workshop, and an emotional intelligence workshop. Since graduating in 2015, she has interviewed protégé candidates as a volunteer.
Recently, that leadership training prepared her to provide conference planning logistical and registration support to the SUNY Human Resources Association (SUHRA), which serves human resources professionals across the SUNY system.
Evans illustrated her "can-do" personality by relating that not long ago, a member of the College community was injured, requiring transport for medical services. Congdon quickly stepped outside her job description to contact the employee's supervisor to gather more of the pertinent facts and provide instruction to the supervisor on steps they could take to ensure a smoother processing of benefit coordination for this employee.
"She exhausts all options and creative approaches to solve a problem and serve an employee," Evans said. "More often than not, her diligence, flexibility, and creativity best serves our employees needs and wants."
David Duryea, the College's vice president for finance and management, praised Congdon for her dedicated professionalism as she recently helped the College implement a new Research Foundation Benefits program for employees.
"Whether it was evaluating our campus employment hiring strategy or developing new faculty/staff employment engagement ideas, she is always willing to come up with and look at new and innovative ways to improve the process," Duryea said.
"Her customer service is second-to-none," Duryea added. "She strives to quickly respond to requests and listen to all. She will aggressively work to find a solution to issues while keeping the customer at the forefront of her mind."
Joanne Barry, assistant vice president for human resources emerita, observed, "She far exceeds expectations in the responsibilities of her position and she shares her incredible talents throughout campus by serving on committees/boards and stepping in wherever there is a need."
Born and raised in Cortland, Congdon graduated from Cortland High School. She completed an administrative skills certificate program through the New York State and CSEA Partnership for Training and Education. Congdon is a notary public.
Before joining SUNY Cortland, she had been employed since 1990 as administrative secretary with Practice Resources, since renamed Resource Associates. Previously, Congdon was a receptionist for several years with Cortland Glass. She began her career in 1986 serving in clerical positions at the Cortland County Medical Department.
She and her husband, Randy Congdon, have a son, Caden, 13. Congdon has closely followed her son's baseball and basketball career, traveling to watch his games and supporting the Cortland High Athletic Boosters. She was president of the Parent-Teacher Association at Randall Elementary School.
Employees Honored for Years of Service
Also during the ceremony, 44 classified employees were recognized for their years of service. They included:
40 YEARS
Marianne Evangelista, School of Education
Teri Wood, Psychology Department
35 YEARS
Marie Blanden, Division of Student Affairs
Deborah Dintino, Political Science Department
Darleen Lieber, Recreation, Parks and Leisure Studies Department
Susan Stout, Center for Gender and Intercultural Studies Department
30 YEARS
Ronald Hulslander, Transportation Services
Wayne Leitch, Central Heating Plant
Daniel Narsasian, Grounds
Coni E. O'Shea, Admissions Office
Melony Warwick, Division of Institutional Advancement
25 YEARS
JoAnn Bacon, Custodial Services
Karen Sue Brown, Parking Department
Penny Bushaw, Physical Education
Daphne Guy, Custodial Services
Suzanne Pettitt, Honor's Program
20 YEARS
Sila Argyle, Custodial Services
Thomas Hingher, Central Heating Plant
Paula Lundberg, Marketing Office
Jo-Ann MacLean, Admissions Office
Tamara Magee, Custodial Services
Rhonda Moulton, School of Arts and Sciences
15 YEARS
Ryan Caughey, Custodial Services
Barbara Field, Custodial Services
Darlene Loope, Custodial Services
Joan Root, Custodial Services
Elizabeth Scott, Parking Department
Edwin Triana, Migrant Education Tutorial and Support Services (Research Foundation)
Meghan VanDeuson, College and Student Accounting Services
10 YEARS
Linda Crompton, Purchasing
Francis Cullen, University Police
Anna Evangelista, Child Care Center (Research Foundation)
Francis Evangelista, Maintenance
William Farron, Grounds
Maryalice Griffin, Communication Studies Department
Douglas Hyde, University Police
Keith Kollar, Maintenance
Rhonda McLaughlin, Purchasing
Steven Mize, Maintenance
Debra Powers, Library
Lynda Shute, Facilities Planning, Design and Construction Office
Lynn Stevens, Maintenance
Susan Suben, Faculty Development Center
Kelley Wooldridge, Child Care Center (Research Foundation)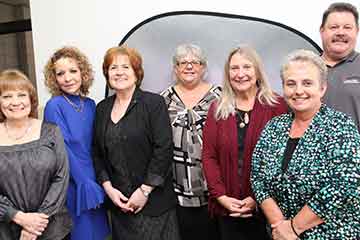 This group of employees was honored for 40, 35 and 30 years of service.
---