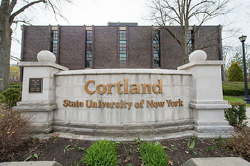 03/10/2020

Dear Colleagues:
We are all dealing with the constantly evolving situation brought on by the coronavirus (COVID-19) outbreak. To date, no cases of COVID-19 have been reported among SUNY Cortland students, faculty or staff members. We are following guidance from the CDC, the New York State Department of Health and SUNY System Administration who have been communicating regularly.
While it is highly unlikely that we would be faced with a disruption of campus operations, I am asking faculty and departments to develop continuity plans for the delivery of course work should face to face classes be suspended. While COVID-19 has been disruptive, we remain committed to ensuring that students complete their in-progress credits and continue to make progress towards their degrees.
In order to facilitate the development of course delivery plans the following resources may be of assistance:
All Spring semester courses already have a Blackboard presence built for them. Faculty can get assistance with utilizing their Blackboard sites through http://cortland.libguides.com/bbl provides Blackboard information and tutorials. Additional information will be forthcoming soon.
Resources supporting the delivery of course content can be found at other campus websites. Useful examples include SUNY Purchase: Teaching during campus closure, and Stony Brook University: Keep Teaching. Keep in mind that delivery of course through distant education does not have to be high tech, it may be as simple as emailing lecture notes, PowerPoint presentations and /or assignments to students
There may be some academic experiences that are not as easily transitioned to on-line delivery, such as labs, field experiences, and practicum. We assure you we will work with faculty and students to come up with alternative strategies to meet the learning objectives of these types of courses.
Additional resources, support workshops, and other information will be listed on the COVID-19 website on an on-going basis. Please check this website frequently.
Supporting the health and well-being of members of the campus community is our highest priority. We know faculty will be supportive and flexible with students who may experience prolonged absences due to illness. Similarly, the college will accommodate faculty and staff who may be out of work as a result of exposure to COVID-19.
SUNY Provost Laursen has provided the following guidance to all Chief Academic Officers on COVID-19.
Sincerely,
Mark J. Prus
Provost and V.P. for Academic Affairs
---