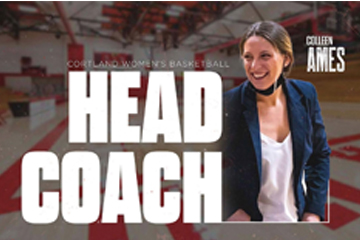 06/27/2023

Colleen Ames has been named the women's basketball head coach at SUNY Cortland, according to director of athletics Mike Urtz. Ames replaces Jacey Brooks, who accepted the position as women's basketball associate head coach at Division I University at Buffalo after five years at Cortland.
"I want to thank Athletics Director Mike Urtz and the entire SUNY Cortland athletics staff for giving me this opportunity," said Ames. "I'm very excited to be back in the SUNYAC and compete in one of the best conferences in the region.
"The women's basketball program at Cortland has a standard of success and I plan to uphold that legacy. The resources and support staff this institution has to offer will allow me to help develop our student-athletes into the best possible versions of themselves both on and off the court."
Ames has coached the past four seasons at Mount Saint Mary College in Newburgh, N.Y., where she guided the Knights to a combined record of 63-16 (.797), including a 52-6 mark (.897) during Skyline Conference regular-season games.
The Skyline Conference Coach of the Year during the 2021-22 season, Ames guided her squad that season to a 24-4 record, the conference tournament and regular-season titles, and the second round of the NCAA Division III playoffs after a first-round win at Johns Hopkins. She also led the Knights to a 20-6 record and the Skyline regular-season title during the 2019-20 season and a 19-6 record in 2022-23 (the 2020-21 season was canceled).
Prior to her time at Mount Saint Mary, Ames served as interim head coach at Clarkson University during the 2018-19 season and as an assistant coach in 2017-18. She also was a volunteer assistant coach at SUNY New Paltz in 2016-17, helping the Hawks post a 20-9 record, win the SUNYAC title and advance to the NCAA Division III "sweet 16" with wins over Bowdoin and Ithaca. In addition, Ames served as an assistant coach for the Long Island Lightning AAU organization for five years prior to her collegiate coaching experience.
Ames is a 2017 graduate of New Paltz, where she earned a bachelor's degree in sociology, and she earned a master's degree in business administration from Clarkson. Ames played two seasons at New Paltz from 2014-16, finishing with totals of 407 points, 82 made 3-pointes, 177 rebounds, 45 assists and 45 steals. As a senior during the 2015-16 season she played in 28 games, 20 as a starter, and helped the Hawks win the SUNYAC title. Prior to New Paltz, Ames played two seasons at Division II St. Thomas Aquinas College.
"Colleen is familiar with our conference, which helps her to hit the ground running in terms of what we need and how we need to play," said Urtz. "Her success at Mount Saint Mary shows us that she can be a really good fit for Cortland. We are excited to see her grow here professionally as well as keep us competitive, all while maintaining a great experience for our student athletes."
A native of Lindenhurst, N.Y., Ames is a 2012 alumna of Lindenhurst High School. She competed in basketball and volleyball for the Bulldogs and earned basketball all-state honors during her senior season.
---