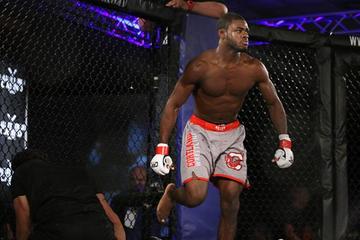 12/01/2017

Aljamain Sterling '12 remembers.
He remembers being the top-ranked wrestler in New York state's Section 8 at 119 pounds during his senior year at Uniondale (N.Y.) High School in 2007, dreaming of winning a state title.
And he remembers that dream being dashed in a 7-4 loss in the sectional finals.
Sterling remembers 2011, when he was the No. 3-ranked wrestler at 141 pounds at the NCAA Division III championships. The Red Dragon, who earned a fourth-place national finish in 2010, imagined slipping a national championship ring on his finger if everything went right.
It didn't. Sterling remembers that, too. A pair of heartbreaking losses on the final day of the competition dropped him to sixth place.
Now Sterling, 28, thinks about those frustrating moments every day as he trains to become a world champion in professional mixed martial arts. Fresh off the greatest victory of his Ultimate Fighting Championship (UFC) career, Sterling is on the verge of challenging for the bantamweight title.
This summer, Sterling took on Renan Barão, a Brazilian fighter who had gone undefeated (31 wins, 1 no contest) during a nine-year stretch of his career. Dana White, UFC's president, called Barão "the best pound-for-pound fighter in the sport" in 2014.
Sterling said he had learned from his previous losses and came into the bout with Barão with rebuilt confidence and in peak physical shape.
Over three 15-minute rounds, Sterling proved himself to be the better and more aggressive fighter, earning a unanimous decision that puts him on track to challenge for a world title in the very near future.
"It's a big mental challenge," Sterling said. This sport is about 20 percent physical and the rest is 80 percent mental. That's a huge part of it. You have to mentally be there on fight night and during fight week and think that the only thing that matters is those 15 minutes or 25 minutes when you're fighting against that opponent."
Sterling spent the 2007-2008 season wrestling for Morrisville State College, where he met fellow wrestler Jon "Bones" Jones, who began a professional MMA career after that season. Jones became the UFC light heavyweight world champion in 2011.
Having glimpsed his own future by watching Jones' success in the octagon, Sterling honed his skills at SUNY Cortland, where he had transferred. During his four years there, Sterling won 87 matches and lost only 27.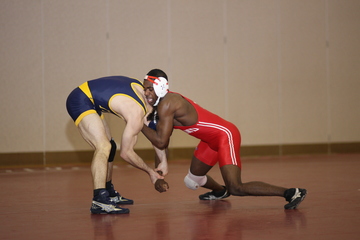 That success didn't come easy.
Dubbed "Funk Master" for his unorthodox wrestling style, Sterling wrestled his own way. He has a high-risk, high-reward style that often resulted in thrilling victories or crushing defeats. Despite his natural talent, he said he often found himself fighting for a spot in the starting lineup because some of his more conventionally-styled teammates offered a more conservative path to team wins.
And then there was money. Sterling found himself cutting hair on the side as a way to bridge the financial gap not covered by aid or student loans.
"There were a lot of difficulties along the way but without any obstacles to overcome, it's really hard to progress and grow and develop," Sterling said. "I think those things helped mold me into where I am today."
Before he graduated with a bachelor's degree in physical education, Sterling was already fighting in amateur MMA bouts. His professional career began on April 21, 2011 with a unanimous decision victory against Sergio da Silva.
Sterling followed that with eight consecutive wins. That earned him the attention of UFC, the sports premiere promoter. His UFC debut in February, 2014, featured Ronda Rousey on the main card.
Sterling established his reputation with a unanimous decision victory over Cody Gibson. Over the next two years, Sterling won each of his next three bouts.
Heartbreak, however, returned last May, when Sterling lost a split decision to Bryan Caraway. It was the first loss of his professional career. Sterling suffered another split-decision loss in January, falling to Raphael Assunção.
"With those two losses, I had to look at the bright side. I didn't get hurt," Sterling said. "I was neck-and-neck with guys who were top five, top three in the world. When you put it in perspective that way, it really makes you realize where your whole game is at and that just a few things need to be tweaked. You're right there and you can be that guy at the top of the pack and challenge for a world title."
Once again Sterling focused on overcoming setbacks. On April 15, he won a unanimous decision over Augusto Mendes.
Sterling, who trains with the Serra-Longo Fight Team out of his hometown of Uniondale, has yet to finalize his next match. He's looking for an opponent strong enough to let him to make a case to challenge current champion Cody Garbrandt for the UFC's world title belt.
Training and preparing for his next UFC fight is currently Sterling's main priority. However, he also finds time to coach high school wrestling on Long Island. Sterling had coached at his alma mater, Uniondale, and is currently the head coach at nearby Baldwin High.
No matter how long his professional MMA career lasts, Sterling knows he'll always coach. After all, he remembers what it was like to find wrestling as a teenager and have the sport change his life. Sterling wants to help the next generation learn to wrestle — and find their way in life — just like he did.
"I was that kid who came in during 10th grade and started wrestling and picked it up like a sponge," Sterling recalled. "I'm looking for those kids who were similar to who I was. I'm looking for the kids who are just as hungry and want to make a change and a difference in their life and want to use wrestling as that catalyst to get into a college or do something different in their lives. I just look at it as paying it forward."
---