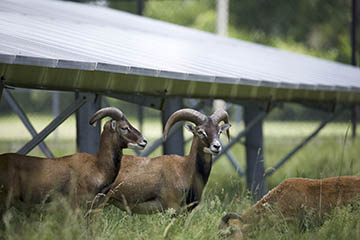 06/28/2022

SUNY Cortland's free-standing solar array boasts 2,443 panels on 2.4 acres, producing 1,118 Kilowatts of electricity. It's all part of SUNY Cortland's efforts for a better environment. But without the help of 12 sheep — give or take — this zero-carbon initiative might get a little bit too green.
With all the hard-to-reach spots a solar array creates, regular methods of lawn care become more daunting. The sheep, meanwhile, handle it with ease. It's a practical choice, according to Daniel Dryja, director of facilities operations and services. But that doesn't make it any less fun to have these four-legged solar stars on campus.
"Having the sheep on site to control the vegetative growth within the solar panel arrays has been very successful," Dryja said. They do a good job of controlling the growth and save unnecessary wear and tear on our equipment, as well as countless man hours mowing and trimming around the panels. Plus, the sheep tend to be very popular among our community members, as you can often find individuals stopping and taking pictures."
In addition to making Cortland's solar power more cost effective, the sheep have another advantage over lawnmowers: without the need for gasoline, less pollution goes into the air. The sheep, all rams, are a breed called Mouflon, selected for the job because they graze on a wide variety of plants and love the shade. On loan from Highland Solar Grazers in Tompkins County, they've kept busy among the university's solar panels near Route 281 since 2021.
Most importantly, they go where lawnmowers can't. Maintaining the landscape around solar panels is tough, thankless work if you're a person. For sheep, however, it's just one feast after another.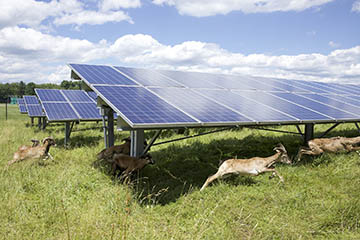 The idea to use the sheep began with Zach Newswanger, vice president of facilities management. Once the disruptions caused by COVID-19 began to end, the idea was implemented by Dryja, who also coordinates with the shepherds who maintain the flock. The number of campus sheep varies, but currently there are about a dozen.
So far, it's been a natural fit. This creative use of hungry livestock has helped strengthen SUNY Cortland's role as an environmental leader among college campuses. Consider:
Recognition the past two years by The Princeton Review as one of the most sustainable campuses in the country. Cortland scored 96 points out of a possible 99 on The Princeton Review's green rating scale, which measures whether students have a campus quality of life that is healthy and sustainable. It assesses how well a school prepares students for employment in a clean energy economy and how environmentally responsible a school's policies are.
Sierra magazine ranked SUNY Cortland among the top 100 colleges and universities in the nation for sustainability for six consecutive years and is the top SUNY comprehensive college on their 2021 "Cool Schools" list.
SUNY Cortland received back-to-back gold ratings in the Sustainability Tracking, Assessment and Rating System (STARS) from the Association for the Advancement of Sustainability in Higher Education (AASHE). The gold rating places Cortland among the top 3% of all higher education institutions in the nation.
In 2013, SUNY Cortland became the first in the 64-campus SUNY system to operate all its facilities using 100% renewable electricity, through a combination of solar power and the purchase of renewable energy.
Anyone who wants to see the sheep in action can find them hard at work from mid-April until December. For other information on SUNY Cortland's environmental programs and resources, check out the Sustainability Office's website.
---