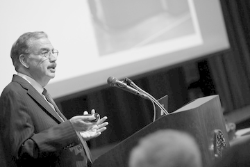 05/16/2022

Dear campus community,
Most of you are aware of Saturday's horrific mass shooting in Buffalo. This was a despicable act of racist terrorism that took the lives of innocent victims. My heart breaks for them, their families and for the members of any community that has been targeted by racism.
SUNY Cortland condemns racist hate and violence and is committed to be a welcoming place of acceptance and safety for all people, regardless of their race, religion or background.
I do understand that many of you are hurting now, trying to comprehend how and why this could happen and what we can do to prevent this from ever happening again. These are the sad, unfortunate and challenging questions of our time. How do we stop hate and violence?
I'm not sure if any one person can solve this on their own. But I do know that you can make a difference in our community today. I encourage you to reach out to your classmates, teammates, faculty members and coworkers to offer support or to simply check in. We also must talk to each other about our most central values: diversity, inclusion and understanding. These conversations and our actions will allow us to move forward and make the world a better place. Please speak to any university employee or use the bias related incident reporting form if you have concerns about anything you've seen on this campus.
Additional resources are available through the Institutional Equity and Inclusion Office.
Students, if you are seeking additional support, please visit the Counseling Center or SUNY system for more information on online and in-person services.
All the best,
Erik J. Bitterbaum
President
---