10/12/2021

Last Thursday, a dedicated group of SUNY Cortland alumni pulled the sheets away from six shadowboxes mounted in the basement of Corey Union, revealing a 30-year history of big-name campus concerts.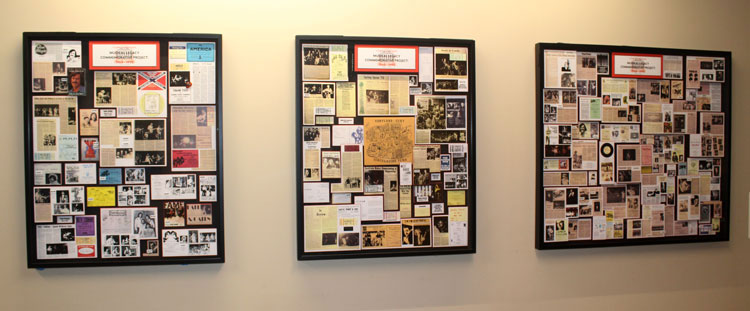 The boxes — filled with ticket stubs, newspaper articles, concert posters and saucer-sized 45 RPM records — document SUNY Cortland's "golden era" of campus concerts from 1960 through 1990. During this time, the biggest acts in popular music toured colleges and Cortland was one of their favorite stops.
Billy Joel, the Grateful Dead, the Beach Boys, the Eagles, Simon & Garfunkel, Linda Ronstadt and dozens of other chart-topping performers comprise SUNY Cortland's musical legacy and are represented by the giant wall sculpture of musical instruments that serve as a centerpiece for Corey Union's lower level, explained Sonia Sochia, an organizer of the commemorative project and member of the Musical Legacy Committee.
That sculpture, created by local artist and alum Scott Oldfield '06, was unveiled in August 2019. The memorabilia shadow boxes were intended to help explain its significance.
"In March 2020 they were completed, hung and covered," Sochia explained. "The unveiling event was scheduled for April 2, 2020. Then COVID happened."
The event was postponed until Oct. 7 of this year. Before last Thursday's uncovering ceremony, members of the campus community had been walking past the shrouded boxes for the last 18 months.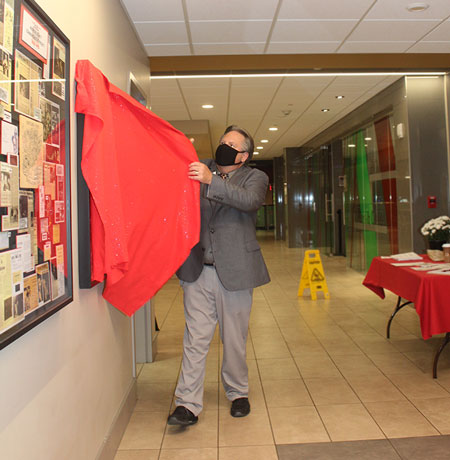 They featured speaker at the unveiling event was David "Rock" Feinstein, former guitarist for heavy metal icon and Cortland native Ronnie James Dio. Dio, who fronted such legendary hard rock and heavy metal bands as Black Sabbath, Rainbow and Dio, performed at SUNY Cortland in the 1960s and early 1970s. Feinstein is currently owner and operator of The Hollywood Restaurant on Groton Avenue.
Other committee members who participated in the event included Kevin Pristash '85, M '91, director of campus activities and Corey Union; Ralph Shortell '66, Gordon Valentine '68, Rocco Scaptura '68 and Jack Samuels '73.
The musical legacy project began in 2018 as part of SUNY Cortland's 150th anniversary celebration.
---