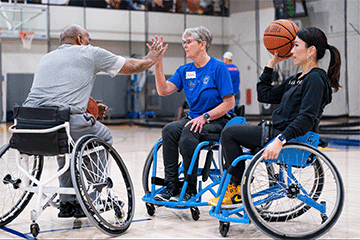 07/14/2023

In 2009, multiple sclerosis (M.S.) picked a fight with former sports physical therapist Juliann "Julie" Lyons '84.
For the the former Red Dragon lacrosse, cross country and indoor track team athlete, her determination to remain active as the incurable autoimmune disease progressively reduces her mobility was never in doubt.
"For me, having M.S. is a challenge, not one I ever really wanted, but one I have to live with," said Lyons of Alameda, California. "I can't really change who I am as a person."
Lyons is a dedicated lap swimmer and former 100-plus mile cyclist, distance runner and triathlete. So even as she scaled back her conventional athletics and physically demanding profession, Lyons fought back in the best way she knew how to slow the pace of her illness, which progressively attacks the insulating covers of nerve cells.
"I've always been a person who was passionate about movement," Lyons said. "I wasn't going to let M.S. stop me in my tracks." Her daily outdoor pool swim routine attests to that.
Today, the former SUNY Cortland physical education and nutrition major can think of no better activity for mind and body than to try out various Paralympic sports.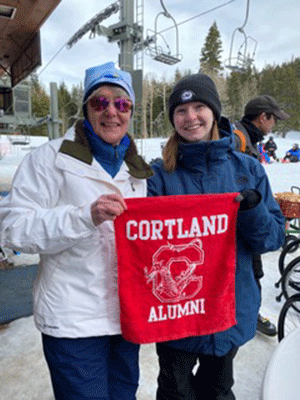 She began attending Challenged Athletes Foundation (CAF) athletic events, using the organization's adaptive equipment and personnel to participate in golf, ice hockey, skiing, curling, basketball and yoga events under the astute coaching of the world's topflight Paralympians inside some of the West Coast's most exciting sports venues.
The San Diego, California-based organization has the mission of "empowering lives through sport" by addressing the barrier of the high costs of adaptive sports equipment and lack of resources that can keep individuals with physical challenges from being active.
In each CAF event, Lyons is mentored by different Paralympians, including women's giant slalom Paralympian Janet Penn, who captured a bronze medal in the first Paralympic winter games in 1980 in Geilo, Norway, returning to Innsbruck in 1984 to win a gold.
"My physical mobility has been challenged; however, my athletic desire wants to continue to participate," Lyons said. "CAF has been a wonderful experience for me."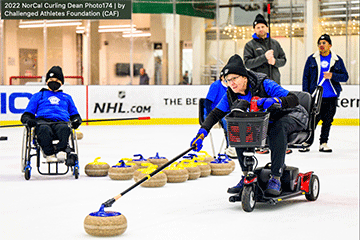 While pushing her physical boundaries on ice, snow and golf greens, Lyons soon encountered an unexpected red and white link to her past: former sport management major Eva Kristof '19. The CAF's Northern California regional programs and community relations manager is Lyons' new friend in the San Francisco Bay area. Kristof lives in Sacramento.
Lyons now greets Kristof at each event carrying a SUNY Cortland banner. A series of photographs captures the companions at each meeting, including:
Last December, in the curling and sled hockey clinics in Shark's Ice at San Jose training rink
In January, at the alpine adapted ski clinic at Achieve Tahoe
At a wheelchair basketball clinic in Oakland at the Warriors Basketball Academy, the former Golden State Warriors training facility
At Nordic skiing and biathlon shooting training at the Tahoe Donner Nordic Cross Country Center
"Cortland has always been a university of high-caliber training for athletic administration, physical education and adapted physical education amongst the best educational programs in these areas," Lyons said.
"It's not surprising to me that within this organization I would come upon a Cortland alum," she said of Kristof.
Kristof, 35 years Lyons' junior, agrees.
"I was so grateful to get connected with Julie!"
Both vividly recall their first encounter last Sept. 24 at a yoga clinic in Fremont, California.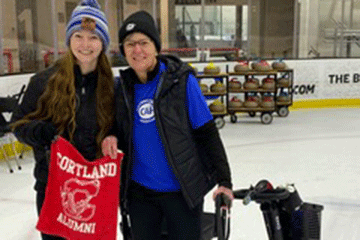 "I hesitated, because I was going by myself and didn't know anybody," recalled Lyons of what was only her second CAF event. Her first had been a May 2022 golf clinic at the San Francisco Olympic Club. "But I thought, I should just go. It was a great clinic, with lots of instructors and lots of support.
"Eva was in charge, and I remember thinking, 'She introduced herself as the new person from northern California,'" Lyons said. The past summer, Kristof had transferred from her first out-of-college employer's main office in San Diego back to her childhood hometown of Pleasanton, California.
"I went up to her and asked her, 'What's your sport?'" Lyons said. "She casually mentioned she played women's ice hockey, and I said, 'That meant you didn't go to school on the West Coast.'
California native Kristof recalled replying " 'Yes, the East Coast. Oh, it was a small school you wouldn't know, it, Cortland.'"
They were both surprised to find a fellow Red Dragon nearly 3,000 miles from their alma mater.
"Small world, for sure," Lyons said. "It's been a pleasure getting to know her through a lot of different (CAF) events at this point, pretty much everything for the last year here."
As a young teenager, Kristof tired of competing on boys' ice hockey teams— the only kind available to her — and looked eastward for a collegiate varsity experience that included women's hockey.
"At SUNY Cortland, I took an interest in the adaptive sports class that was offered as an elective," said Kristof, who at Cortland concentrated in managing facilities and events. "My cousin has cerebral palsy, and I was excited to learn more about the adaptive sports community and career opportunities.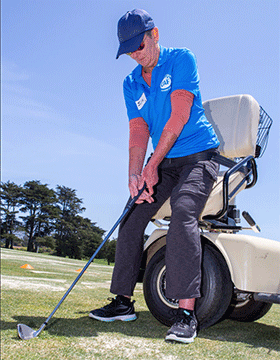 "I also played for the collegiate hockey team for my first three years, taking my last year off from the sport to pursue an internship with the U.S. Paralympics. Following graduation, I found my way back to California, and started working for CAF."
Lyons, a Long Island native, as an undergraduate took the advice of Florence Brush, the late associate professor emerita of physical education, and took courses to steer her into physical therapy. At Cortland, she took part in varsity indoor track and women's lacrosse.
She earned her first Master of Science in physical therapy in 1988 from Boston University, and afterward worked in California hospitals and specialty clinics. Although diminutive, Lyons nevertheless performed the physically demanding work to rehab NFL football players.
As her strength and balance dwindled and M.S. was suspected, Lyons prepared for a second career by earning, in 2002, a Master of Science in traditional Chinese medicine from the American College of Traditional Chinese Medicine in San Francisco. She worked as an acupuncturist and herbalist until the pandemic gave her the opportunity for early retirement.
Lyons doesn't use a wheelchair, but through CAF she recently tried her old favorite sport, basketball, zipping around the court in a sport wheelchair in a March CAF clinic at Oakland's Golden State Warriors training facility. Paralympic athletes and coaches of the U.S. Paralympic team shouted advice to participants on the sideline.
She'd gladly reconnect with alumni to talk about living with M.S. or raising awareness about what the CAF has to offer.
"It keeps me going, it keeps me encouraged, it keeps me positive emotionally," Lyons said. "I think, the muscles that I do have that are still functioning and working well are really the ones I must keep working on. Because I'm aging. I'll be 62 years old. I'm fighting a couple of different battles and the more fit I can keep myself, the better off I'm going to be to manage that chronic condition that I must deal with every day."
---