News Detail
03/09/2022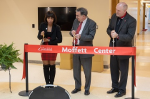 Nearly 70 years ago, Moffett Center opened as the center of physical education, health and recreation on the SUNY Cortland campus.
On Thursday, in a space that for decades was filled with the squeak of sneakers on old hardwood, the university celebrated the transformation of the historic, brick structure into as a modern center for academic learning of a very different nature.
"It's really fun now as alumni come back. They walk in here and are absolutely stunned," said President Erik J. Bitterbaum, standing in a cathedral-like forum flooded with natural light and busy students. "It has really become a very important space for us.
"Not only is it part of our past, but also of our future. It's really quite extraordinary."
Bitterbaum was jointed by Associate Vice President for Facilities Management Zach Newswanger and Student Government Association President Taylor Hunter in ceremoniously cutting a red ribbon to officially recognize the completion of the renovation's second, and final, phase.
The $25 million project transformed the old gymnasium into the Moffett Center Forum, a 3,400-square-foot open area topped by wide skylights and filled with study alcoves and comfortable furniture where students and faculty can meet. Sawubona, a coffee shop that serves premium African coffee and specialty sandwiches, has become a student favorite.
"I want to thank you for creating a space like this for students," Hunter said during the ceremony. "A space where they can grab a snack and have a great social networking experience."
A second-level mezzanine offers assess to a variety of reimagined classrooms and offices for academic specialties that include political science, economics, anthropology, sociology, health, criminology, Africana studies and more.
In all, the project created 72,000 square feet of new interior classroom, office, laboratory and lounge space. There's a quiet study area, a collaborative classroom and a new home for SUNY Cortland's Institute for Civic Engagement.
The building's heating, ventilation and air conditioning system was upgraded and expanded, windows were replaced and natural lighting improvements like the forum skylight and glass windows at the top of classroom walls. As a result, the building's energy use intensity has decreased by 40%, Newswanger said.
The transformation has been a long time coming. Phase I of the Moffett Center update was completed in 2009. It renovated 20,000 square feet of main level space encompassing the pool area and back wall facing Sperry Center into modern classrooms, offices, the Rozanne M. Brooks Museum and a lounge area for the Sociology/Anthropology Department.
A second phase was designed by Holt Architects of Ithaca, N.Y. in 2011, but the economic recession ground progress on the renovation to a halt. New York state only released funds to carry out the remaining updating in 2019. Construction was done during the pandemic, and the building reopened a year and a half ago. COVID-19 concerns, however, delayed major campus events, including Thursday's ribbon cutting.
"This is an extraordinary accomplishment for SUNY Cortland," Newswanger said. "Not only because of the time span, but, more specifically, we were able to complete the project on time in the midst of a pandemic.
"Thanks to the contributions of the many teams affiliated with this project, SUNY Cortland has a building with this amazing Georgian façade, couple with a new, modern interior that will support and foster growth for our students, faculty and staff."
---