News Detail
02/21/2023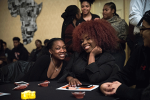 SUNY Cortland will continue to celebrate Black History Month (BHM) throughout February with a series of events that includes historical and cultural lectures, panel presentations, a black-tie social event and a spoken word workshop with international slam poet champion Ed Mabrey.
SUNY Cortland opened BHM month on Feb. 1 by formally proclaiming its inaugural Abraham Lincoln DeMond 1889 Day, honoring a groundbreaking graduate and enshrining his legacy.
For the remainder of February, BHM campus events are posted online on the Institutional Equity and Inclusion Office webpage. Events are open to the public and free unless otherwise noted.
Still to come include:
Sport advocacy panel: Three Black sport industry professionals will dissect the issue of low racial diversity within the ranks of sport management professionals. Erin Morris, SUNY Cortland associate professor of sport management is leading the panel. The panelists will discuss "Advocating for Change — How We Can All be Better Allies and Co-Conspirators in Creating an Inclusive Sport Management Spaces" on Tuesday, Feb. 21, at 6:30 p.m. in the Professional Studies Building, Room 1176. The panel features Olivia Lindsay '19, event staffing lead with the New York Road Runners; Gabrielle-Alessandra Alleyne '19, marketing coordinator with U.S. Figure Skating; and Deidre Pierson M '19, associate athletic director at Hamilton College. These alums will also discuss ways in which they think underrepresented students and professionals in sport management could be better supported.
BHM Jeopardy: The Black Student Union will host a game of "Jeopardy" where participants are tested on their knowledge of Black history. The competition for prizes of gift cards begins at 7 p.m. on Tuesday, Feb. 21, in the Corey Union Fireplace Lounge.
East African slave trade: John Jones, SUNY Cortland assistant professor of childhood/early childhood education, will discuss a less well-known aspect of the Trans-Atlantic slave trade, which crossed the Indian Ocean, and that transported people from eastern Africa to the Arabian Peninsula, India, Indonesia, and even China. His talk, "From Afro-Turks to Siddis: The East African Slave Trade and the Afro-Asian Diaspora," will begin at 2 p.m. on Wednesday, Feb. 22, in the Moffett Center first floor conference room. Based on his research of the Afro-Turkish population of the late Ottoman Empire and Modern Turkey, Jones will shed more light on the experiences of the various populations of people in Asia who can trace their ancestry back to the people transported from eastern Africa.
Celebrating Black creativity: SUNY Cortland Professor of Performing Arts Kevin Halpin will offer a program of celebrating the lives and work of Black Americans in the performing arts. He will share details about their lives and perform songs, scenes, monologues and readings from their creative output during the event, "For My People: A Black History Month Celebration., It starts at 6 p.m. on Wednesday, Feb. 22, in the Dowd Fine Arts Center, Room 110.
Prison letter-writing workshop: The Black Student Union will take time to recognize the injustice experienced by men in the Black community, share their solidarity, and encourage hope by writing letters to incarcerated men at 6 p.m. on Wednesday, Feb. 22, in Corey Union, Room 209. The Week of Events program is presented in collaboration with Men of Value and Excellence.
Afro-Latine inequity: Tibisay Hernandez, a diversity equity and inclusion consultant with more than 15 years of experience, will give a virtual presentation on "Know Your Roots — Afro-Essence the African Diaspora in Latine America: Fighting Anti-Blackness as a Collective," at noon on Thursday, Feb. 23. One in four Latinè Americans identifies themselves as people of African descent. Despite significant progress over the past decade, Afro-Latinè populations are still underrepresented in




Tibisay Hernandez

decision-making positions across sectors. Participants will be given tools to build coalitions that fight anti-blackness. The event link is TBA. Hernandez' focus is implicit bias, interpersonal mediation, diversity recruitment strategies, inclusive search development, navigating critical conversations, inclusive leadership, restorative justice and transformative justice practices. She is currently a diversity and inclusion team leader for the New York State Department of Civil Service's Office of Diversity and Inclusion Management.
Black and Boujee: The Black Student Union Week of Events invites the campus community to this formal social event to celebrate Black excellence. People of all identities are welcome to share a time of dressing nice, being fancy and celebrating one another during "Black and Boujee: What Happens in Vegas stays in Vegas" at 10 p.m. on Friday, Feb. 24, in the Corey Union Exhibition Lounge.
Kings and Queens Conference: The Black Student Union will continue its Week of Events with the annual Kings and Queens Conference starting at 11 a.m. on Saturday, Feb. 25, in Corey Union Function Room. Alumni of SUNY Cortland are invited to offer their insight on topics including "The Most Unheard Voice in America: The Black Woman." Food will be provided, and attire is semi-formal.
Phat and fit: Exercise is all about improving mental and physical wellness, but the fitness industry can be selective about whose bodies represent "health." The presentation by Tracy Hudson, SUNY Cortland Diversity Faculty Fellow and assistant professor of physical education, will speak on "Phat and Fit: Unpacking the History of Anti-Blackness in the Fitness Industry." The lecture will examine historical fitness fallacies to encourage conversations that allow for introspection about what it will take to usher in a world where anti-Black racism is no longer found in our exercise world. The talk, at 5:30 p.m. on Tuesday, Feb. 28, will begin in Corey Union Fireplace Lounge.




A past Afro Essence event fostered cross-cultural encounters.

Spoken Word and Workshop: Spoken word artist Ed Mabrey, perhaps the greatest poet in the history of poetry slams with four world championships, six regional championships and more than 500 wins, will offer a "Spoken Word and Workshop." Organized by the Student Activities Board (SAB), the event takes place on Tuesday, Feb. 28, in Corey Union Exhibition Lounge. An hour-long workshop runs from 5 p.m. to 6 p.m. followed by a spoken word session from 7 to 8 p.m. An NAACP Image Award Nominee and 2019 APCA Spoken Word Artist of the Year, Mabry has performed on TV ONE, ABC, FOX, HBO and CNN. He performs poetry and conducts workshops on mental and emotional health with a focus on depression, anxiety, suicide ideation and removing stigmas from seeking therapy.
Co-sponsorships and funding for Black History Month were made possible by the President's Office, Institutional Equity and Inclusion Office, Political Science Department, School of Arts and Sciences, Africana Studies and Performing Arts departments, SUNY Cortland Alumni Association, Multicultural Life and Diversity Office, Disability Resources, Campus Artist and Lecture Series, Student Government Association, Know Your Roots-Afro Essence, SUNY Cortland Campus Activities, Student Activities Board, Career Services, Black Student Union, NAACP chapter and Pan African Student Association.
For more information, contact Cyrenius Fitzjohn, assistant chief diversity and inclusion officer, Miller Building 404A.
---