News Detail
12/20/2019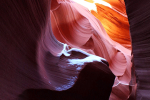 It's a universal truth that international travelers love to snap pictures.
A case in point is Joel Lee, a sophomore at SUNY Cortland who came to America as an exchange student from Taiwan last fall and later transferred from his home college, Tamkang University.
Last fall, Lee took a timeout from his studies in geographic information systems (GIS) to visit Niagara Falls, a popular scenic attraction that many visitors from abroad flock to with their cameras, smart phones and video equipment.
"I like to take pictures almost wherever I go," said Lee, or Chih Yu, as he is called by his first name in his native home of Taipei, Taiwan. "I like to record my life by these pictures, so I can recall memories by looking into these photos."
More recently Lee, who was once again taking a break from being a student, landed in California, participating in a tour from San Francisco to Los Angeles to Las Vegas, Nevada, with a notable stop in Arizona to visit a slot canyon on Navajo land east of Page, Arizona. There he captured a color-drenched natural formation that recently won first prize in one category of a contest for Cortland students who participate in International Programs.
"This picture was taken in Antelope Canyon, Arizona," said Lee, who won in the international student experience category and was encouraged to make the detour by a fellow international student who also savors the American landscape. "It was so fascinating. I totally underestimated the beauty of Antelope Canyon."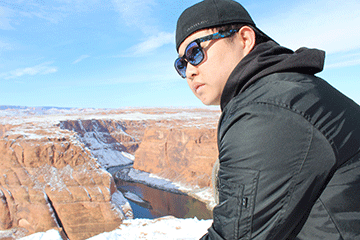 Lee was among 27 prize winners, viewer's picks or honorable mention entries announced in SUNY Cortland's 10th annual Study Abroad Photo and Video Contest in the first week of December.
The photographic and video graphic winning images, as well as honorable mentions voted on by a judge's panel, and the Popular Choice winners selected by the public on social media, are available for viewing on the International Programs Photo and Video Contest page.
Presented by the College's International Programs Office, the competition was open to all students who studied abroad through SUNY Cortland during the 2018-19 academic year, whether they were Cortland students or international visiting students.
The students competed for monetary prizes and critical attention in five different categories: international student experience (international students); international student selfie (international students); the world as your classroom (Cortland study abroad students); culture and customs (Cortland study abroad students); and video category (joint international students and Cortland student abroad students). Students were allowed to enter up to three items, one per eligible category.
"Across our five categories — two international student, two study abroad student, and one joint video category — we had approximately 145 entries," said Kayla DeCoste, international program coordinator.
The contest had a voting committee made up of 23 volunteer faculty and staff members who voted for first place and runner up in each category, DeCoste said. First Place winners won $100 and Runner Up winners won $75 each. More than 1,000 campus community members and people around the world voted for the Popular Choice winners, who were awarded $50 each.
Images were evenly split between ones taken in the U.S. and abroad.
"The purpose of the photo contest is two-fold," DeCoste said. "First is to help our students, both Cortland students who study abroad and international students who study at Cortland, to engage with, reflect upon, and process their experiences abroad.
"Second, is to engage the larger campus community and raise awareness of what our office does and the amazing opportunities that are available to our students to learn about the world and interact with global community," she said.
The photo contest is sponsored in part by an Auxiliary Services Corporation grant.
Students interested in submitting a photo or video for the next year's contest can visit the Photo and Video Contest page for details or contact International Programs at studyabroad@cortland.edu.
Lee, with a minor in computer applications who aims to graduate in 2021, recently shared other thoughts about his Cortland experience so far:
What is Taipei, Taiwan like?
JL: It is the capital of Taiwan. It's like Manhattan. It's crowded. A lot of shopping malls, restaurants and skyscrapers.
So how did you know about SUNY Cortland?
JL: My previous school, Tamkang University, has an exchange program with SUNY Cortland.
Did the experience in Cortland meet your expectations? If so, please explain.
J.L: Yes. The study vibes and all the professors are really nice and friendly; nice environment and facilities.
What attracted you to your major?
JL: I'm into learning computer skills, and also having a direction for my future career.
Cortland had to be a lot different from Taiwan, right?
JL: We don't have snow in Taiwan, but I like it. Food is also one major difference. The style and the ingredients are totally different, but I like it as well.
What's your favorite food? Least favorite?
JL: I like to cook for myself. My favorite food would be steak and pasta. The least favorite food will probably be chicken breast. It doesn't mean it's not good, but personally (I'm) not a fan of that.
Have you won an award before?
JL: I have won an honorable-mention in the last (2018-19) photo contest.
The single best part of your experience — what was it?
JL: Having a chance to explore and study in the U.S. is what I dream of, so the best experience is still a continuous tense.
---