News Detail
03/08/2021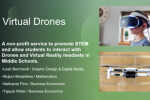 During the fall 2020 semester, SUNY Cortland students in Geographic Information Systems (GIS) and GPS technology courses collaborated with others in Computers & Society classes to pitch a business startup that uses drones.
Chris Badurek, associate professor in the Geography Department, and Janet Ochs, coordinator of the Computer Applications Program (CAP), tasked students with thinking about drones in all aspects of life. Students formed teams and met virtually to collaborate on how they would use drones to improve society and solve problems. The teams conducted research, accomplished learning outcomes, submitted proposals based on the National Science Foundation's Innovation Corps STEM entrepreneurship education model and ultimately pitched their ideas to a panel of alumni judges.
Mujuni Mutabiilwa, a sophomore mathematics major from Norwich, N.Y., was a member of the winning team that imagined a drone racing program for middle schools. The group's concept was to make computer programming educational as well as entertaining for children and possibly spark their interest in careers in science, technology, engineering and mathematics (STEM).
For Mutabiilwa, who is considering a career in computer science, the drone pitch contest made him consider the possibilities drones may play in his own future.
"It opened my eyes a lot because doing the research, I found out that you can program drones to do specific tasks," Mutabiilwa said. "In the future, if I'm in computer science or programming or another form of technology, I can definitely see myself using drones."
Leah Bernhardt, a sophomore graphic design and digital media major from Groton, N.Y., enjoyed the cross-disciplinary aspect of the project and getting to work with business economics and mathematics majors. Her own experiences with using technology in middle and high school was part of the inspiration for her team's winning pitch.
"I wondered what it would have been like at our high school if we had a drone program," Bernhardt said. "Our design was a virtual reality drone and I thought it would have been cool if we had that in our middle school or high school and if that would've pushed more people toward computer science majors."
Other pitch ideas from student groups included using drones to decrease plastic in rivers, improving wildlife tracking, expand mapping accuracy for emergency response and delivery drivers and fighting wildfires in the Western U.S.
Judges evaluated student pitches using a criterion of creativity, clarity of presentation, level of technical detail, and use of supporting data.
Alumni judges included:
Mary Colomaio '15, a GIS specialist in Cornell University's Facilities Department
Chelsea Cook '09, assistant professor of social behavior, neurobiology and behavioral genetics at Marquette University
Adelina Prentice '06, a GIS analyst at drone startup DroneSeed
"The students demonstrated effective use of the lean startup methodology promoted by the National Science Foundation (NSF) for STEM technology startups," said Badurek, who completed three NSF Innovation Corps courses on STEM entrepreneurship during 2020.
The drone pitch contest also provided students with a way to be resourceful and imaginative with students from different disciplines and do so safely and remotely in the midst of COVID-19.
"With the pandemic, Janet and I wanted to provide students an opportunity to collaborate and spend time with other students," Badurek said. "We also wanted students to have fun developing their ideas and provide an opportunity to speak in front of successful Cortland STEM alumni."
Badurek and Ochs will present their experiences teaching this course project at the SUNY Conference on Instruction & Technology (CIT) Conference in May.
Another of the learning goals of the pitch contest was to increase the students' opportunity to seek creative solutions to problems.
"I was very impressed with the creativity of the teams and several students blossomed when giving their final presentations to the judges," said Ochs.
The other members of the winning team were Nathaniel Pine and Tyjayia Webb. The team of Bettina Bonfiglio, Thomas Jenkins, Ailyah Locke and Amanda Miranda received a judges' award. Two teams received student choice awards: Clayton Bleier, Dean Corbin and Jaycob White; as well as Michael Conforti, Collin Cummings, Mark Rossini and Zach Saltzman.
Learn more about SUNY Cortland's Geography Department and Computer Applications Program online.
---