Our facilities

Bowers Hall
Research and the sciences thrive in our main science facility on campus, where a $43 million renovation recently took place. Bowers Hall houses the Biological Sciences, Chemistry, Geology and Physics departments.
In addition to teaching laboratories associated with classes, faculty members lead their own research labs. Other special research spaces have been equipped with specialized equipment. There also are two greenhouses and an herbarium.
The building's new three-story wing also includes a planetarium, an open museum area and study space along with modern classrooms and computer labs.
William H. Parks Family Center for Environmental and Outdoor Education

Raquette Lake
SUNY Cortland is proud to operate this one-of-a-kind facility located roughly three hours from campus near the Adirondack Mountains. Students will take part in independent research and fieldwork in addition to academic retreats and other workshops at this majestic, 400-acre site. Three facilities make up the outdoor education center: Antlers, Camp Huntington and Kirby Camp. Camp Huntington is the only nationally designated historic landmark in the SUNY system.
---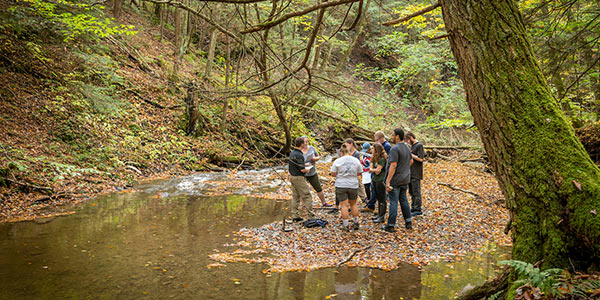 Hoxie Gorge
Very close to Cortland — just seven miles from campus — students discover Hoxie Gorge, a 170-acre nature preserve where they can pursue fieldwork in the sciences. Approximately 1,000 students visit each year. The area's research has attracted more than $500,000 in grants, with topics that include insect chemical ecology, conservation biology of amphibians, pollination biology of flowering plants and nutrient cycling in streams.

Brauer Field Station
Students pursuing the natural sciences also make use of Brauer Field Station, located approximately eight miles southwest of Albany. This modern, log building is situated atop the Helderberg Escarpment on a 33-acre tract of land and open from May through October. The majority of the property is wooded, with small, marshy wetlands and two prominent cliffs nearby. The field station itself offers classroom space, dining and lodging facilities.