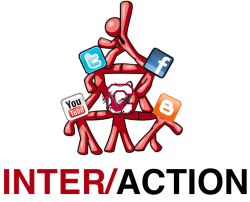 09/23/2013

All Americans aren't always given an equal opportunity to speak their piece, according to the premise of SUNY Cortland's common book read for the 2013-14 academic year.
"Inter/Action," the theme of this year's Cultural and Intellectual Climate Committee (CICC) series, continues Tuesday, Sept. 24, with a presentation titled "The Cortland Educational Experience: A Diversity of Student Stories," at 4:30 p.m. in Brockway Hall Jacobus Lounge.
All programming is built around the books Our America: Life and Death on the South Side of Chicago, by LeAlan Jones and Lloyd Newman, and Blasphemy, by Sherman Alexie, which were chosen following a campus survey.
Jones and Newman were teenagers when they were asked to begin documenting their lives in a Chicago housing project. Their book offers firsthand accounts from their lives and how they differ from those of other Americans.
"You must learn our America as we must learn your America so that maybe, someday, we can become one," the authors write.
Blasphemy includes a collection of short stories that considers life in America through the eyes of a Native American. Readers who participate in the CICC series can read the entire book or a smaller sampling of stories.
Besides Tuesday's presentation, the rest of the fall semester's events include:
• Tuesday, Oct. 8: "Urban Education in Our America," a panel presentation by students from the Teaching and Learning Institute in Rochester, N.Y., at 4:30 p.m. in Corey Union Exhibition Lounge.
• Thursday, Oct. 17: Readings from Blasphemy at 7 p.m. in Old Main Colloquium.
• Monday, Oct. 21: Readings from Blasphemy at 4:30 p.m. in Brockway Hall Jacobus Lounge.
• Monday, Nov. 18: A reading by Joe Bruchac, the popular Native American storyteller and writer, at 4:30 p.m. in Brockway Hall Jacobus Lounge.
• Tuesday, Nov. 19: A screening of Beasts of the Southern Wild, a 2012 fantasy drama film nominated for four Academy Awards, at 7 p.m. in Sperry Center Room 105.
For more information, contact the CICC's current co-chairs: Brian Barrett, associate professor of foundations and social advocacy, at 607-753-2330 or Howard Lindh, scenic designer for performing arts, at 607-753-4101.
---