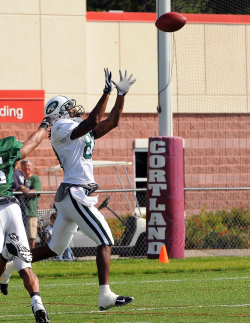 06/13/2012

The New York Jets will officially start 2012 training camp on Thursday, July 26, when the team reports to SUNY Cortland.
The first practice open to the public will be Saturday, July 28. That's when the initial wave of the tens of thousands of fans expected to visit campus during the annual camp will arrive.
"Since I've been the head coach, our time in Cortland has been very important to the development of our football team both on and off the field," said Jets Head Coach Rex Ryan. "The support that we receive from the College is top notch and the time that we spend in that environment enables us to focus on getting better while learning about each other and drawing closer together as a team."
It also gives fans an opportunity to get a close-up view of their favorite New York Jets players.
During training camp, fans will again be able to enjoy Jets Fest, a football theme park with skill challenges and inflatable rides, and the Jets Shop Merchandise Tent.
The team will announce more training camp details in the coming weeks.
"The College is incredibly proud to play a role in the success of the New York Jets, a truly professional organization that continues to be an engaged and generous partner," SUNY Cortland President Erik J. Bitterbaum said. "Our relationship goes beyond the three weeks of training camp and benefits the College and our students throughout the entire year. To say we are happy to have them return would be an understatement."
The Jets have practiced at SUNY Cortland since 2009. The team did not hold training camp at Cortland last year because schedules were impacted by the negotiation of a new collective bargaining agreement.
In 2010, the last year the Jets held camp at SUNY Cortland, more than 41,000 people visited the campus during the team's three-week stay, boosting the regional economy by an estimated $5.8 million. Also that year, more than 50 SUNY Cortland students across a range of majors worked training camp internships for the Jets. Many economics and business economics majors, meanwhile, received field experience researching and quantifying the Jets' economic impact on the region.
---