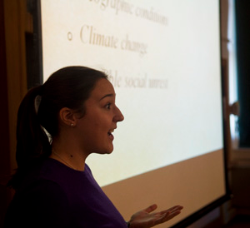 04/25/2011

Four SUNY Cortland seniors were honored on April 5 in Albany, N.Y., with 2011 State University of New York Chancellor's Awards for Student Excellence.
The SUNY Cortland recipients, all seniors, are:
• Erica Frerking, an international studies major from Ossining, N.Y.
• Alyssa Riehle, a speech and hearing science major from Webster, N.Y.
• Michael Schoeneberger II, a dual major in political science and sport management from Middletown, N.Y.
• Danielle Singer, a political science major from Binghamton, N.Y.
The recipients were honored for integrating academic excellence with accomplishments in leadership, athletics, community service, creative and performing arts or career achievement.
With this year's awards, 60 SUNY Cortland students have earned a Chancellor's Award for Student Excellence since the program was created in 1997.
Each year, SUNY campus presidents establish a selection committee to review outstanding graduating seniors. The nominees are forwarded to the Chancellor's Office for a second round of review and a group of finalists is selected. Each honoree received a framed certificate and a medallion that is traditionally worn at commencement.
A more detailed profile of each 2011 SUNY Cortland honoree follows:
Erica Frerking
Erica Frerking
Erica Frerking, shown above to the left giving a presentation during the April 15 Scholars' Day at SUNY Cortland, isn't just a college student. In a phrase, the international studies major is a student of the world.
Globally, Frerking has traveled to Namibia and Senegal to utilize her educational training. Locally, she founded the International Awareness Club to bring a global perspective to campus.
"I traveled to Namibia in southern Africa when I was in high school," Frerking said. "I realized that I wanted to devote my studies to learning about the world, how it works and how to make it a better place."
Besides founding the College's International Awareness Club, Frerking held the vice president and treasurer positions in the Model United Nations Club and served as the international student orientation coordinator for the James M. Clark Center for International Education.
In the Clark Center, she established a partner program that pairs international students with American students to share respective cultures.
Frerking said her time at SUNY Cortland made a large impression on her life.
"In turn, I hope that I was able to make a distinct impact on the Cortland campus through the programs and organizations that I have been involved with throughout my time here," she said.
Frerking has volunteered her time on two continents and organized a fundraiser to pay a Namibian child's school fees.
A member of the College's Dean's List every semester and a four-time member of the President's List, she collected several leadership awards and merit scholarships during her academic career, including the UUP College Scholarship and the Alpha Delta Junior Scholarship.
Frerking will work for the Projects Abroad organization in Senegal next year.
Alyssa Riehle
Alyssa Riehle
Alyssa Riehle's work ethic, paired with a degree in speech and hearing science, will take her places.
She has already traveled to Oslo, Norway for her work on Alzheimer's disease, becoming the first undergraduate student to present at the conference of the International Clinical Phonetics and Linguistics Association (ICPLA).
"Presenting this research allowed me to inform and educate others about my findings," said Riehle, who will submit her research to the Journal of International Research in Communication Disorders. "This was by far one of the best experiences of my life and an accomplishment that I take pride in."
Her experience in her future profession runs beyond the presentation in Norway.
Riehle served the Communication Disorders and Sciences Department as a student mentor and as a representative for the College's Spring 2010 Open House. She presented at SUNY Cortland's Scholars' Day in 2010.
"Communication is an essential part of everyday life," she said. "Some people have extreme difficulties expressing themselves or communicating with others.
"I wanted to pursue a major in speech and hearing science so that I will be able to work with a variety of children and adults to help improve any difficulties that they may be experiencing."
Her work with children extends to her time as a summer counselor at Camp Good Days and Special Times and a volunteer at the Hillbrook Detention Facility.
A five-time member of the College's Dean's List and a two-time member of its President's List, Riehle is a member of invitation-only groups that include the National Speech Language Hearing Association and the ICPLA.
She will pursue a master's degree in speech-language pathology in the fall.
Michael Schoeneberger II
Michael Schoeneberger II
You won't find his name in any box score but Michael Schoeneberger is destined for a career in sports.
The aspiring sports agent will make his mark with the behind-the-scenes work that is his trademark, like the basketball league he co-founded for disadvantaged youth. The Orange County Basketball League offers down-and-out kids the ability to connect with positive roles models.
He serves on the Pi Kappa Phi and Greek Standards executive boards in addition to the College's Judicial Review Board. His many academic awards include the Excellence in Law and Justice Award, an accolade given to the student with the highest GPA for all law and justice majors.
Schoeneberger said he is proud of his entire body of work at SUNY Cortland, including his effort to pursue a law degree.
"When I came to Cortland I was specifically a political science major because I felt that it would best prepare me for law school, which was always the plan," he said.
He added a second major to move closer to his goal of becoming a sports agent.
"Combining law school with a background in sport management was the best choice for me," he said.
Outside of his basketball league, Schoeneberger's volunteer work includes Relay for Life and the Madden Committee, a video game tournament to raise money for charitable organizations.
A member of the College's Dean's List every semester and a three-time member of its President's List, Schoeneberger was a member of three honor societies, including the Zeta Delta chapter of the Pi Sigma Alpha political science honor society.
He will pursue a law degree in the fall.
Danielle Singer
Danielle Singer
After a 2009 shooting rampage took 14 lives in her hometown, Danielle Singer responded with action. It is the only way the Binghamton, N.Y. native knows.
A sophomore at the time, Singer did not personally know any of the shooting victims at the American Civic Association. Still, she organized a SUNY Cortland money collection for the victims.
"I look back on that moment and am proud of not only myself for really stepping up during a hectic time at school, but also of the SUNY Cortland student body as a whole," she said.
Singer flourishes as a political science major and English minor, especially in the legal landscape. She placed sixth out of 82 competitors at the 2010 Moot Court Regional Competition, arguing cases before judges. As president of the Political Science Association, she organized a voter registration event to enhance students' civic engagement. She also held positions with the College's Judicial Review Board, the Student Government Association and the Auxiliary Services Corporation.
"I have always had a serious interest in politics and the law and (the political science major) offered the best of both worlds to me at SUNY Cortland," Singer said.
Besides her volunteer effort for the Binghamton shooting, she lent her time to Relay for Life, the Cortland Historical Association and Rep. Michael Arcuri's campaign in 2010.
A member of the College's Dean's List every semester and a three-time member of its President's List, Singer is a member of Phi Kappa Phi, the college-wide honorary society.
She will attend the University of Miami School of Law in the fall.
---