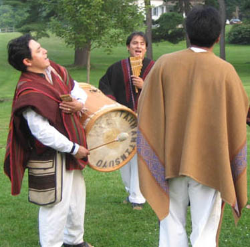 11/05/2012

UPDATED: Tahuantinsuyo, the group that pioneered Andean-inspired folk music in the United States, has canceled its performance scheduled for Wednesday, Nov. 7, due to circumstances created by Hurricane Sandy.
For more information, contact the Campus Activities and Corey Union Office at (607) 753-5574.
EARLIER COVERAGE: Musicians who are adept at performing the folk music of the Andean countries — Ecuador, Peru, Chile, Bolivia, Argentina and Colombia — will perform at SUNY Cortland on Wednesday, Nov. 7.
Tahuantinsuyo will dance with instruments while wearing costumes of the "Inca Empire" during the performance, which begins at 7 p.m. in the Corey Union Function Room.
Part of the College's 2012-13 Campus Artist and Lecture Series (CALS), this performance celebrates Native American Heritage Month.
Tickets cost $5 for faculty, staff and the general public and $3 for SUNY Cortland students. Pre-school children will be admitted free. Tickets can be purchased in Corey Union, Room 406, or beginning one hour prior to the performance at the Function Room. For more information, contact the Campus Activities and Corey Union Office at (607) 753-5574.
Tahuantinsuyo members are dedicated to research and performance of the traditional music. Tahuantinsuyo's message for all is: "Whoever you are, wherever you come from, you have roots and your own culture. Learn to love and respect it to help keep it alive. Teach your children to respect it and show pride for it."
Tahuantinsuyo members are family and friends who share the common goal of trying to keep the traditional Andean music alive and help their people identify with their culture.
Guillermo Guerrero formed the group in 1973 in the northern Peruvian Andes and continues as the director. Members include Fernando Leyva, John Freire, Andrés Jimenez, Alcides Loza, Saúl Guerrero and, on many occasions, Cesar Vele.
They have performed at renowned concert halls and museums such as the Museum of Natural History, Carnegie Hall and Constitution Hall in Washington, D.C.
They also worked with the World Music Institute (formerly The Alternative Museum) and appeared at places like the Symphony Space and Washington Square Church, where their CD, titled "Music of the Andes and Argentina," was recorded live.
The group has two recordings available at major record stores and on the Internet, "Tahuantinsuyo Music of the Andes" and "Music of the Andes and Argentina." Additionally, Tahuantinsuyo made two recordings for the Museum of Natural History utilizing ancient Andean instruments. The group was invited to the 150th Anniversary Celebration of The Smithsonian Institution in Washington, D.C., and to the international music festival "Voice of Asia" in Alma Atta, in the former Soviet Union.
In 1993, Tahuantinsuyo received a Certified Access Producers Award from Queens Public Television (QPTV) for a video of music and dance from the Andes, which they produced with two grants from Queens Council on the Arts and QPTV.
More Information on Tahuantinsuyo can be found on the group's website www.tahuantinsuyo.org.
---