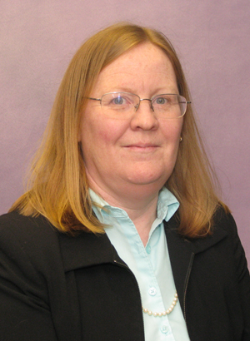 04/29/2011

Andrea Lachance, the chair of the Childhood/Early Childhood Education Department and a member of the SUNY Cortland faculty since 1998, will become the interim dean of the School of Education, effective July 1. A national search for a permanent dean will be conducted.
Lachance replaces John Cottone, who has served as interim dean since August, 2009, and was named dean of the College's School of Professional Studies in March.
Lachance has been the chair of the Childhood/Early Childhood Education Department since 2008. In addition to teaching, she acts as the project director for the Teacher Professional Development Network of Central New York and the undergraduate advisement coordinator for her department.
A two-time recipient of the SUNY Cortland Excellence in Research and Scholarship Award, Lachance has served on more than a dozen committees at the College. She was named a SUNY Cortland Research Enrichment and Development Initiative (REDI) fellow in 2009 and was a SUNY Cortland Innovative Teaching Award winner in 2003.
Since receiving her doctorate from Cornell University in 1999, Lachance has evaluated and consulted with six teaching development projects. She has written several book chapters and has presented papers at education conferences across the country.
From 1992 to 1998, Lachance served as a reading lab instructor, teaching assistant, instructor and graduate assistant in the Department of Education at Cornell University. In 1998, she joined SUNY Cortland as an assistant professor of mathematics education. She was promoted to associate professor in 2003 and full professor in September.
A native of Arlington, Mass., Lachance received a bachelor's degree in English from Boston College. She earned a Master of Science and a Doctorate in Curriculum and Instruction from Cornell University, where she specialized in mathematics education.
She lives in Ithaca, N.Y., with her husband, Bruce Lauber, and their two children.
---