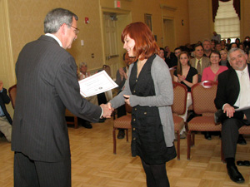 04/29/2011

SUNY Cortland's Institute for Civic Engagement (ICE) awarded nine individual honors and recognized 37 members of the campus and the greater Cortland community during the 2011 Leadership in Civic Engagement Awards Ceremony on April 21 in Brockway Hall, Jacobus Lounge.
President Erik J. Bitterbaum, City of Cortland Mayor Susan Feiszli and ICE Director Richard Kendrick gave a welcome and introduction at the seventh annual ceremony.
"This really is an extraordinary group that helps our students learn to grow as citizens," Bitterbaum said. "We do know these experiences are changing our students' lives."
Mayor Feiszli said, "As mayor of the City of Cortland, I thank you very, very much."
Since 2005, the College has recognized the contributions of individuals and groups to the community's quality of life through civic engagement activities. The ICE and Division of Institutional Advancement also have provided students with scholarships for their civic engagement initiatives.
SUNY Cortland students, faculty, staff and local community members could nominate a person, group or themselves for an award. Event sponsors included the ICE, the divisions of Student Affairs, and Institutional Advancement, the Cortland Fund and the Cortland College Foundation.
Six students each received a $1,000 scholarship this year. The students included:
• Victoria Maione. She won the Borg-Warner Morse TEC Scholarship for Student Volunteers and Interns.
• Lori Jean Magnelli. She was awarded the Community Scholarship for Student Volunteers and Interns, which recognizes a student who has demonstrated initiative and dedication to community service.
• Ashley Mosgrove. Mosgrove received the Institute for Civic Engagement Scholarship, which acknowledges exemplary civic engagement leadership and entrepreneurism during at least one year at SUNY Cortland.
• Laura Brienza and Laura Platt. Each earned a Judson H. Taylor Presidential Scholarship, in recognition of their demonstrated commitment to community betterment by volunteering or interning at local schools or non-profit organizations.
• Juliann Lykos. The honoree was awarded the Lambda Phi Delta Service Scholarship, which is reserved for an active participant with at least two full years of study at SUNY Cortland and one year remaining who has made a positive impact in service to the College community.
A student and one student group were recognized with individual, non-monetary awards. They were:
• Jesse Campanaro. He received the Cortland Area Chapter of the Alumni Association's Community Service Award. The student-only award recognizes civic engagement work between SUNY Cortland and the greater Cortland community that goes beyond course or graduation requirements.
• SUNY Cortland's Habitat for Humanity. The organization won the Don Wilcox Civic Engagement Award. The award recognizes a campus or community group that lessens the effects of hunger and homelessness.
Twenty students, nine faculty and staff members, eight community members and two student groups received Leadership in Civic Engagement Awards. The award honors people with at least one year of service at SUNY Cortland who have shown exemplary civic engagement leadership. Activities include volunteer work, community action, service learning, social justice and political action. The award winners were:
• Students: Laura Brienza, Jesse Campanaro, Amanda Cheetham, Julie Ciotoli, Jason Decker, Devon Keir, Michelle Krenzer, Carmela Laya, Juliann Lykos, Lori Jean Magnelli, Victoria Maione, Grace McGeoch, Ashley Mosgrove, Laura Platt, Erica Raepple, Alaina Repetto, Alexis Robinson, Alaina Shanley, Lima Stafford and Caitlin Sullivan.
• Faculty and staff: Karla Alwes, Judy Bentley, Harland Bigelow, Diane Craft, Jeanette Dippo, David Franke, Eddie Hill, Lin Lin and Amy Shellman.
• Community members: David Beale, Michael Dexter, Lindy Glennon, Linda Kline, Kimberly McRae Friedman, Machell Phelps, Frances Pizzola and Christella Yonta.
• Student groups: Education Club and Running Club.
---